Alcatel One Touch Scribe Easy hands-on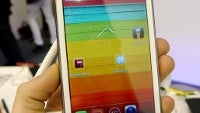 The
Alcatel One Touch Scribe Easy
is an affordable phone with stylus functionality, what Alcatel calls a "perfect canvass for capturing flashes of genius on the move."
And in our brief hands-on time with the Scribe Easy we were happy to see the little touches such as a magnetic MagicFlip that both carries the stylus, and protects the display from scratches. Also, Aclatel differentiates with vibrant colors - Flash Red, Fresh Blue, and Flash Yellow.
Apart from that, there is nothing to be impressed about in this Scribe Easy except for its price to feature balance. It's got a 5" display with only WVGA resolution and is powered by a dual-core 1.2GHz processor and 512 MB of RAM. There is a 5-megapixel rear camera and internal storage is 4GB and expandable via microSD cards.
The One Touch Scribe Easy runs Android 4.1.2 Jelly Bean, and just like one other phone (cough,
Galaxy Note II
) comes with creative apps specially made for the stylus. You have a note app for sketching which also does handwriting recognition and a movie maker app.
We don't yet know availability dates and price, but we bet it'd be on the affordable side.