Alcatel 3/3L/3T 10 & Alcatel 1S: low prices, big displays, AI-enhanced cameras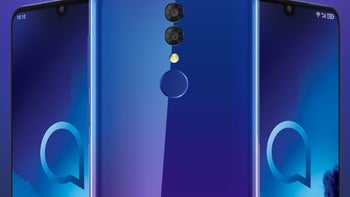 Alcatel and its parent company TCL have always been committed to offering a range of affordable devices, and this year is no different. In fact, the brand has just announced a range of three low-cost smartphones and a budget tablet which try to offer all the basic features.
The Alcatel 3

The Alcatel 3 is the priciest model from today's lineup but it's also the most impressive – both internally and externally.


The mid-range smartphone comes equipped with a large 5.9-inch Super Full View Display. This features an HD+ (1560 x 720p) resolution paired with slim side bezels and a tiny waterdrop notch above the display which contains an 8-megapixel selfie snapper.


The rear of the Alcatel 3 has been carved out of glossy plastic which does make it quite the fingerprint magnet. Nevertheless, it's available in two flashy gradient options which look kinda neat and can be described perfectly by their names – Blue-Purple and Black-Blue.


Alcatel's latest device also features a rear-mounted fingerprint scanner, Face Key facial recognition, and a dual-camera setup that consists of a main 13-megapixel sensor (increased to 16-megapixels via software) accompanied by a second 5-megapixel alternative. Both of these are paired with a variety of AI enhancements.


The Alcatel 3 arrives powered by Qualcomm's Snapdragon 439 coupled with Android 8.1 Oreo (an Android 9 Pie update will arrive next quarter) and a 3,500mAh battery. Those willing to spend a little extra can purchase the smartphone with 64GB of storage and 4GB of RAM for €189 ($214) in Europe. Alternatively, a 3+32GB model will be available for €159 ($180). In both cases, sales will commence during the second quarter of the year, although there's no word on a US release.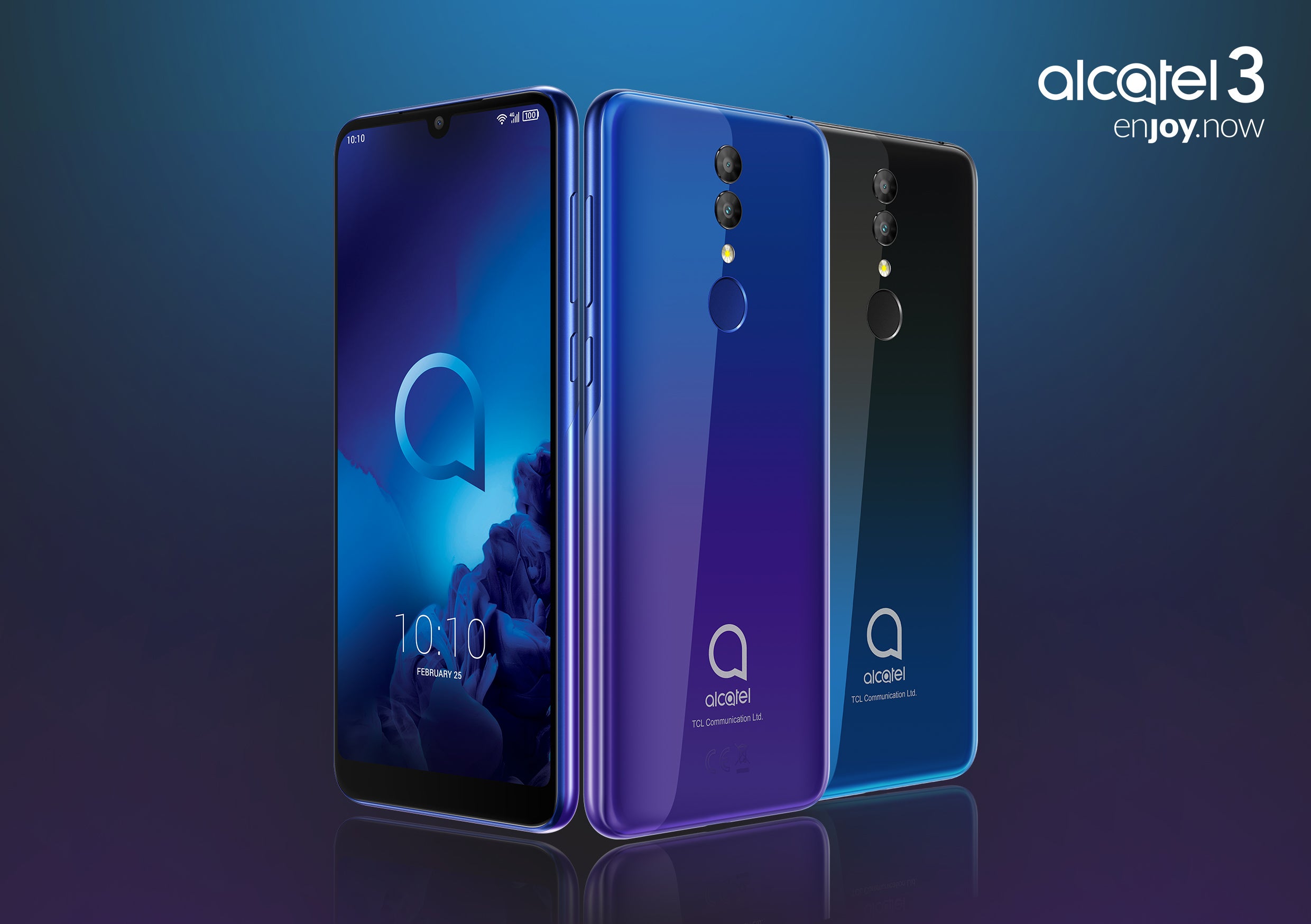 The Alcatel 3L

If the Alcatel 3 is a bit too pricey for you, a slightly cheaper model dubbed the Alcatel 3L will also be available soon.


Visually, this smartphone is almost identical to the regular model. But, rather than maintaining the Alcatel 3's glossy coating, the Alcatel 3L comes fitted with a slightly more generic-looking plastic panel that boasts a "metallic painting" finish. The smartphone also loses the gradient finishes in favor of two basic color options dubbed Metallic Blue and Anthracite Black.


To further cut costs, Alcatel has also made a few downgrades internally by replacing the Snapdragon 439 with the slightly less powerful Snapdragon 429. Similarly, this model is only available with 2GB of RAM and 16GB of internal storage. The Alcatel 3L will receive Android 9 Pie sometime next quarter.


Like the regular Alcatel 3, this smartphone will be available to consumers start Q2 2019 and will cost just €139 ($157) in Europe.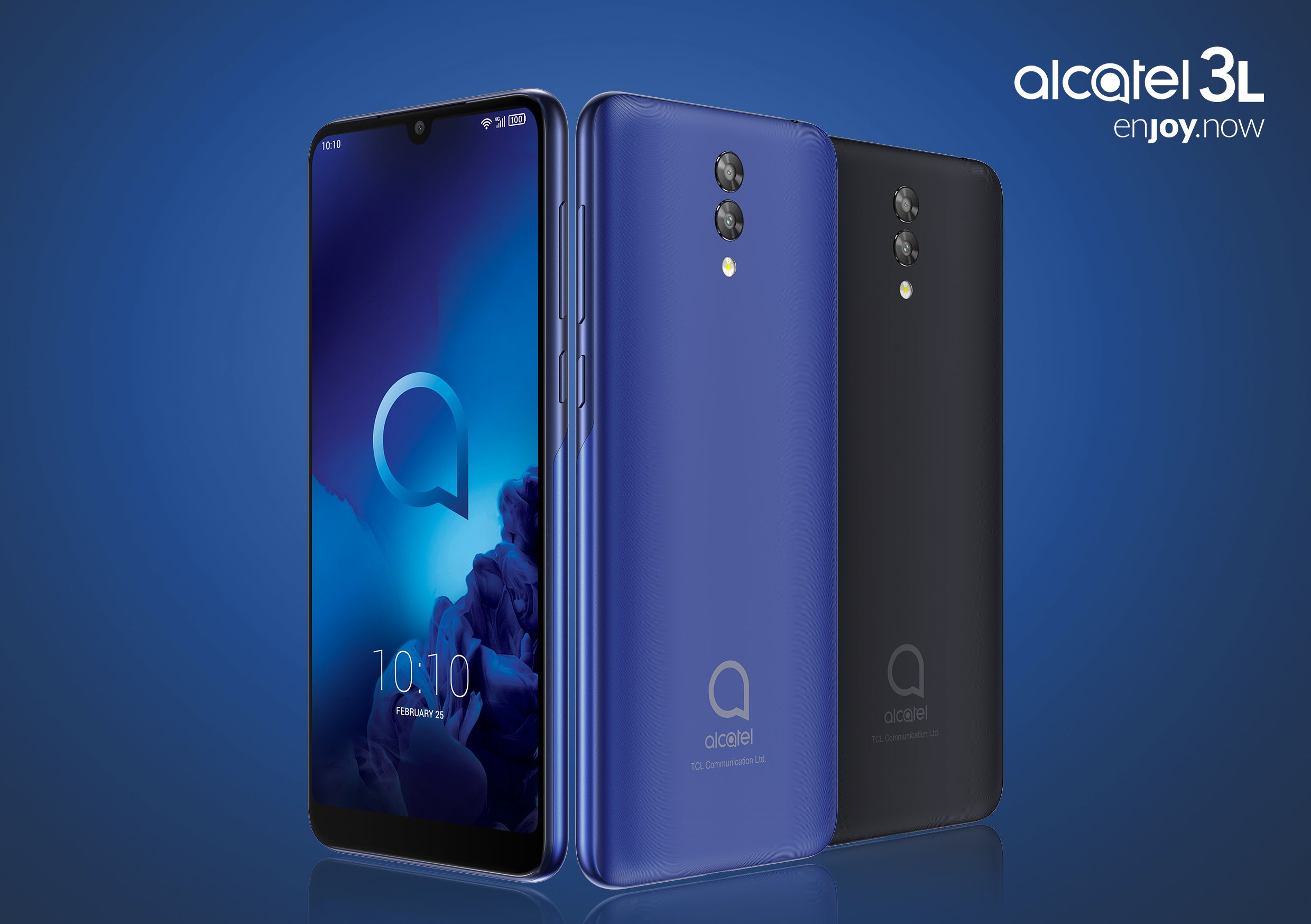 The Alcatel 1S

Completing Alcatel's range of low-cost smartphones is the insanely-cheap Alcatel 1S.


This smartphone packs a smaller 5.5-inch display complete with an 18:9 aspect ratio which means a slightly thicker bezel above the panel and no notch. Nevertheless, it features a rear panel carved out of plastic with a metallic finish, just like the Alcatel 3L.


In regards to cameras, the front camera offers a 5-megapixel resolution. The rear snapper, on the other hand, features a higher 13-megapixel resolution that is interpolated to 16-megapixels through software. The latter is also accompanied by a 2-megapixel sensor that helps with depth sensing and bokeh imagery.


Despite being the cheapest model of the bunch, the Alcatel 1S boasts an impressive 3GB of RAM and 32GB of Storage. In regards to the processor, an octa-core Speadtrum-branded chip clocked at 1.6GHz is present. There's also a 3,060mAh battery and Android 9 Pie straight out of the box, unlike the other models.


Alcatel 1S sales will kick off in the second quarter around Europe. The smartphone costs just €109 ($123) and will be available in two colors: Black and Blue.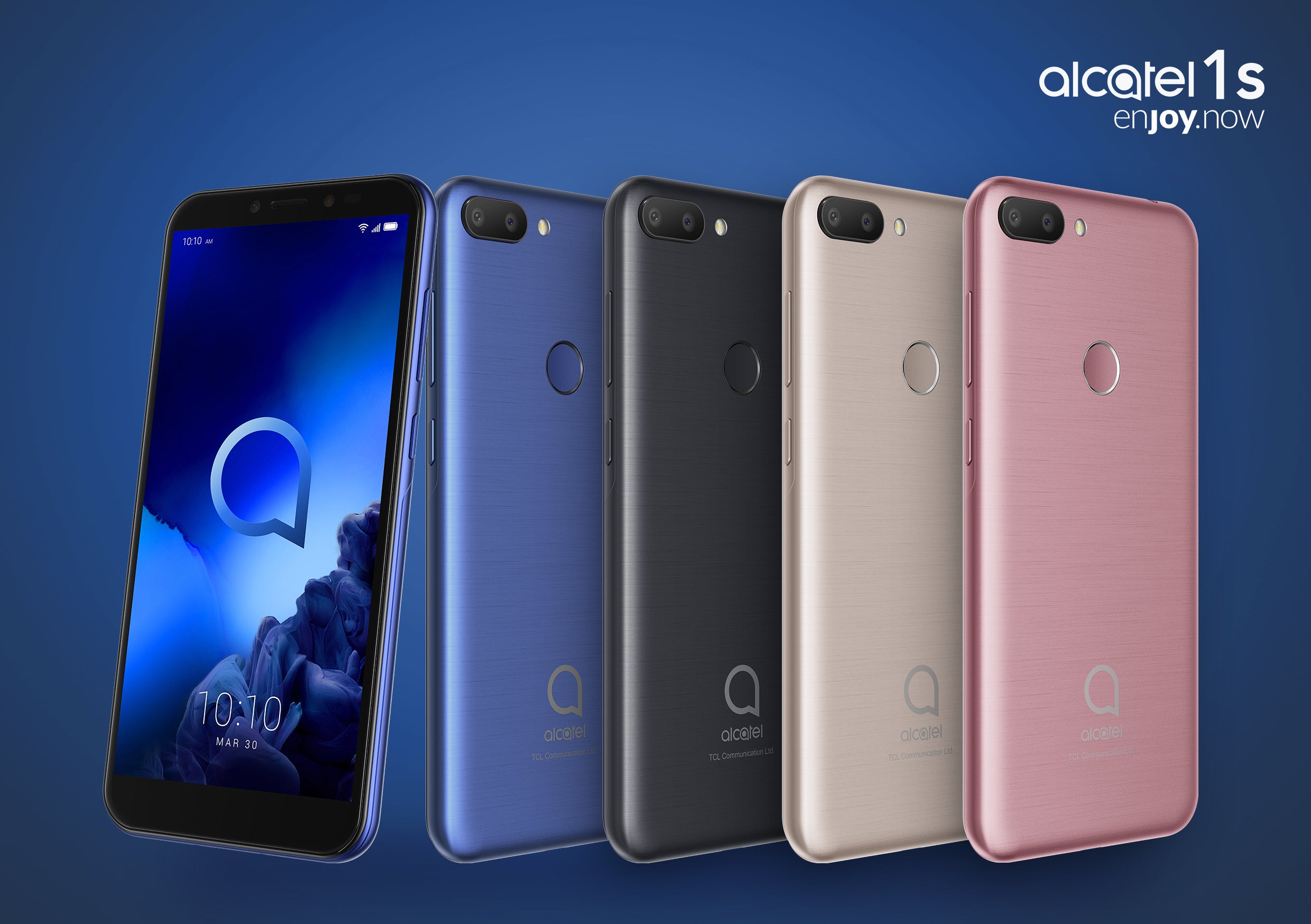 The Alcatel 3T 10 Tablet

The final product announced today was the Alcatel 3T 10, the brand's latest affordable tablet. As its name indicates, it features a large 10-inch IPS display that is paired with dual front-facing speakers and a relatively small 4,080mAh battery.


Like most Android devices nowadays, it ships with Android 9 Pie straight out of the box and also boasts Google Assistant integration. Internally, there's 2GB of RAM and 16GB of internal storage but, for some reason, the processor hasn't been specified.


With this tablet, Alcatel is focusing heavily on media consumption. So much so that it's created an optional Audio Station accessory that can be connected to the tablet. It acts just like a portable speaker and can offer up to seven hours of non-stop music playback. Media can also be played from external devices thanks to the 3.5mm jack, micro-USB port, and microSD card slot.


Those interested in the Alcatel 3T 10 will be able to purchase it later this year for €179 ($203) across Europe. If the Audio Station is of interest to you two, it'll be available as a bundle with the tablet for €229 ($259). Like the smartphones, there's no word on US availability.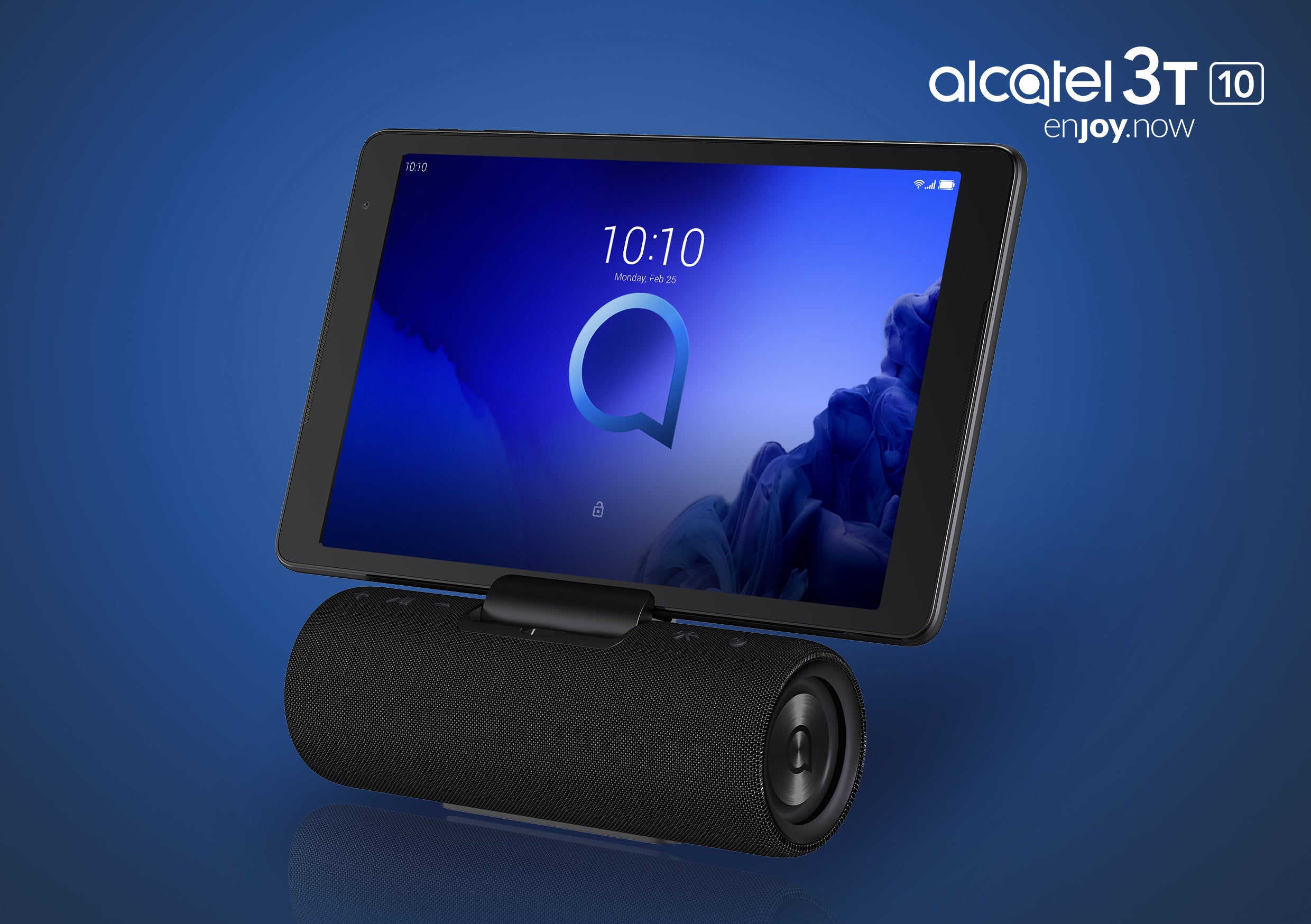 Recommended Stories