Acer beTouch E110 flies into the FCC flaunting AT&T 3G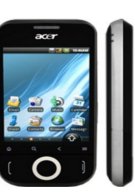 Although our Canadian friends up to the north will soon be getting one nice piece of Android powered hardware in the form of the Acer Liquid e smartphone, US consumers may soon get a portion of that love from Acer as well. Despite lacking any serious power under the hood when compared to the Acer Liquid e, it's still pleasant to see that the Acer beTouch E110 is attempting to get its name out there in the US market. There's no denying that Acer has a strong presence in the PC market already, but they'll need to do some extra work before winning over the hearts and minds of US consumers. The FCC just approved today the Acer beTouch E110 which surprisingly has support for AT&T's 3G network and is considered one of the company's latest Android smartphones. It's an entry-level smartphone featuring a 2.8" QVGA touchscreen, GPS, 3.5mm headset jack,
3.2
-megapixel camera, 256MB ROM, 256MB RAM, ST Ericsson PNX6715 416MHz processor, and Android 1.5. Our European friends will be getting a taste of this handset first when it's expected to be available some time in March with an attractive low price. Still, there's no confirmation when this handset will actually make an appearance in stores for consumers to purchase over here.
Acer beTouchE110 Specifications
|
Hands-on
source:
FCC
via
Unwired View