AT&T's Samsung Galaxy S5 shipping sans the Download Booster feature?
8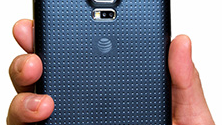 It looks like some AT&T customers who pre-ordered the
Samsung Galaxy S5
have already received their handset - a bit earlier than its normal launch date (April 11).
However, although the early arrival of the S5 certainly made users happy, it seems that AT&T's smartphone comes without one of the features
advertised by Samsung
: Download Booster. Android Police received some screenshots taken on a Galaxy S5 SM-G900A (AT&T's variant), and these indicate that Download Booster is completely missing from the device - so it's not just disabled.
Theoretically, Download Booster allows Galaxy S5 users to download files larger than 30MB faster by combining the handset's Wi-Fi and LTE connectivity.
It's worth mentioning that, from all major US mobile carriers, only T-Mobile is listing Download Booster among the features of the Galaxy S5. We're not sure if this means that the feature is also completely missing from Verizon's and Sprint's versions of the new smartphone. But well find out later this week, when the S5 will be widely available across the US (and around the world, for that matter).
source:
Android Police