AT&T to start selling TerreStar Satellite phones again
This article contains unofficial information.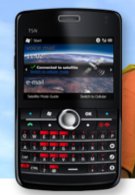 It may not be all that important to most consumers, but the need to literally be connected may prove to be a life or death issue. So if you're in a location where you're in the middle of nowhere with not even a bar on your cell phone, then you may want to think about having a satellite phone. AT&T is reported to start reselling satellite enabled phones and services from TerreStar very soon. The two companies have jointly worked together since August of 2008 after they signed a nationwide reciprocal roaming agreement. The TerreStar handsets have an almost BlackBerry look with navigation via the trackball. It'll have Windows Mobile Professional 6, dual-band WCDMA, and quad-band GSM/EGPRS that will allow it to roam in and out of terrestrial and satellite networks. This is all coming into reality when the launch of the TerreStar-1 satellite arrives July 1. This device may come in handy with government officials and emergency personnel in the event of a major disaster. The rumors are hinting for a $700 unsubsidized price point for the handset and around $1 per minute for the service.
via
Wireless Week