AT&T has exclusive dibs on HTC One with 64GB storage
84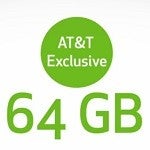 We knew from the jump that AT&T would be offering the
HTC One
in all flavors. As usual, we do not know how much those favors will cost, or when the HTC One will be available for that matter.
However, it looks like AT&T can chalk up another exclusive arrangement for the next flagship release, as the carrier's promo video for the HTC One shows the 64GB variant to be all theirs.
The 32GB HTC One will be offered across the spectrum, but those on Sprint or T-Mobile may be disappointed if they were hoping to score the larger capacity device. Since the HTC One does not offer any microSD card support, the 64GB model will certainly be appealing for many.
For those that may be relegated to a 32GB model, and are worried about whether or not they will have enough storage space, there are a variety of cloud options available to help and the networks are better situated now than they were a year ago to make cloud solutions more viable. Were you all set on a 64GB HTC One, or are you ready to go either way once the device hits the market? Check out AT&T's promo video below and tell us what you think.
sources:
Droid Life
via
Android Central