A Meizu phone may be used to showcase Ubuntu Touch at this year's MWC
2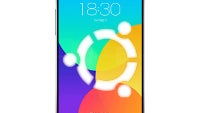 We've been
hearing rumors
about a
Meizu MX4
handset with Ubuntu Phone for quite a while now, yet there's been no official word on the matter yet – not for the MX4, nor for the
MX4 Pro
.
Recently, senior manager Heng Zhang has recently made a post on Weibo, claiming that Meizu will be bringing a phone to MWC, looking to introduce the brand to international users. However, Meizu is not listed as an exhebitor in the MWC 2015 database, but guess what – its
partner
, Canonical Group Ltd., is. The latter is actually registered at the conference and has hinted that it will be displaying a new phone at the show.
Speculators say that it may be a dual boot-capable handset, which would be able to load either Flyme OS (Meizu's heavily skinned fork of Android) or Ubuntu Phone. This may sound a bit hard to believe, as dual booting phones are still more of a myth than anything, but Ubuntu OS is said to be able to run Android, when the device is in "phone mode", but go to Ubuntu environment once the gadget is docked and has peripherals attached to it. Alternatively, there may be a Flyme version of Ubuntu? We can't really be sure at this point.
As far as which phone it would be – our wager is either the MX4 or MX4 Pro, naturally.
via:
Meizu News
,
itHome
(
translated
)
Recommended Stories