9 iPhone stands with built-in audio systems that let you blast tunes at home or on the go
4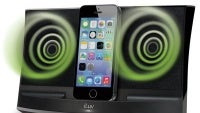 If your iPhone is what you use for storing and playing all your favorite music in the world, the combination of a dock and powerful external sound system must be pretty hard to resist. Indeed, renowned accessory makers and audio equipment brands have created slick docks that let you prop up your smartphone or tablet in a comfortable and secure position, playing music from it through a Bluetooth or wired connection and charging it via AC power.
That's not all, though! These accessories are portable soundsystems that run on batteries and let you take them anywhere. Nomatter if its blasting music in the kitchen or on the go, the good sound quality, long battery life, and unquestionable portability of these accessories have you covered from nearly every angle!
We've rounded up nine wondrous technological specimens of this type and a bonus accessory that will come in handy in some special occasions. Most of them are designed to work exclusively with iOS devices equipped with Lighting ports, although some are designed to not discriminate between smartphones and tablets from different manufacturers, as long as there's an USB connection or headphone out present. Take a look, music maniacs!
Also read: