5 useful and convenient acrylic coasters, stands, and wall mounts for smartphones and tablets
3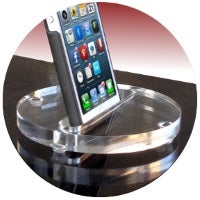 Browsing the web for more stuff to pamper our smartphones and tablets with, we stumbled upon a delightful collection of acrylic coasters, stands, and wall mounts for Apple and non-Apple gadgets. Replicating the look of Apple Store holders while coming with additional features, such as security mechanism and anti-skid surfaces, these accessories look like extremely convenient additions to any home or business environment.
With the unassuming look of transparent acrylic, they never get in the way, and propping your smartphone or tablet in an upright position, or having it mounted on the wall are just great ways to interact with them. We're already dreaming of a living room with walls decorated entirely with moving iPad screens. It can be done! Anyone have 14 or so spare iPads around? Yeah, we thought so...
Anyway, check out this collection of jolly good acrylic mounts, and if they prove to do a fine job in your household of conference room, thank us later!
Also read: