8 pretty, pocket-sized Bluetooth speakers to take the music out with your smartphone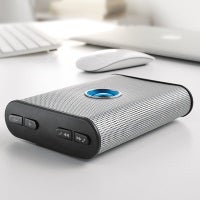 The Bluetooth (BT) speaker market exploded with the surge of smartphone popularity. It has become the home of very adventurous and quirky designs, along with passable to pretty nice-sounding products. There seems to be a BT-speaker for every occasion – be it outside, your bedroom, the shower, your desk next to your desktop PC – whatever! Just like music can play a part in every moment of our lives, so can the Bluetooth-speaker – it makes so much sense.
This article focuses on the most portable kind of BT-speakers. The ones you can comfortably carry in your pocket and whip out on any appropriate occasion. Some of them are not only portable, but durable as well, meaning you can bring the music to the beach or in the rain without problems. Some are as gorgeous as the HTC One (M8) fresh out of the box. And some are so small they literally fit on your key-chain.Without further ado, here are eight ultra-portable Bluetooth speakers for your pleasure.
8 pretty, pocket-sized Bluetooth speakers to take the music out with your smartphone