5 to 6 million Nexus One units to be sold in 2010?
0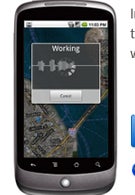 Trying to figure out how many Nexus One units will be sold in 2010 is a dicey job. Still, brokerage analyst Doug Anmuth of Barclay's Capital was up to the task and computes that 5 to 6 million units of the Android superphone will be sold in 2010. That would make it the best selling Android powered device. The Motorola DROID was launched by Verizon Wireless on November 6th and analysts estimate that over 1 million units of the device have been sold. The N-One is not being sold through normal distribution channels. Instead of buying the handset from a cellular carrier or retail store, the phone can be purchased only through Google with cell service provided by T-Mobile. If 5 million units are sold at the no contract price of $530. Google can expect to gross over $2.5 billion, although that would not be the net profit figure, and some of the cash would have to be shared with the phone's manufacturer, HTC. (By the way, for those who are saying that not all the phones will be sold with no contract, you are absolutely right. However, Google will get the $530 price for these phones as it will be up to T-Mobile to make up the difference between the contract and non-contract price. The difference is the subsidy that T-Mobile pays to Google and is the reason why you pay an ETF if you don't fulfill your contract terms).
In comparison with the estimated 5-6 million N-One sales for this year, Apple's iPhone is expected to move approximately 30 million touchscreen handsets in 2010. On the other hand, the figure is about half of the total number of smartphones that Motorola is expected to sell in 2010-quite impressive indeed for Google and the Nexus One. and while the smartphone market as a whole might show some increase this year, one of the current platforms will probably see some major-just stepped out of the shower-shrinkage in 2010. Will it be Windows Mobile? webOS? The iPhone OS? Symbian? What is your guess?
source:
AndroidGuys