5 screen protectors for the new Samsung Galaxy S6 edge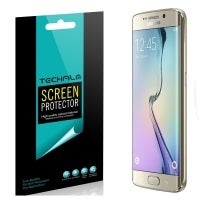 What a screen the Samsung Galaxy S6
edge
has, huh? Its sloping sides give the smartphone a beautiful liquid look, while the super-high 1440x2560 resolution makes it possible to read the tiniest of characters and watch high-resolution video
pixel
-for-pixel. It would be a shame if its durable Gorilla Glass 4 covering was to face the ground, or another firm obstacle at the exact velocity to break into shards and send you on an expensive screen replacement trip!
That's why you should get yourself sorted with an affordable, impact-resistant
screen protector
, which will - in the worst case - absorb all the impact damage before it reaches to the display, or - in the best case- keep your screen in mint condition. Right now, it's a bit early for accessory makers to come up with those great tempered glass screen protectors. In fact, we believe TPU-based protectors will be in charge of the show here, as bending tempered glass to just the right degree to cover up the S6 edge's sides will be quite a challenge for manufacturers.