5 apps to help you learn the guitar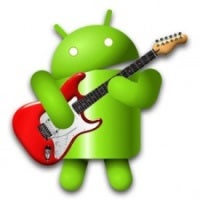 If you want to play the guitar, or you're already working your way through theory and exercises, you are in luck. The advent of Internet and instructional videos has turned the guitar into the most extensively documented musical instrument there is. Alas, decades into its existence, it also remains one of the most poorly taught instruments ever, but given the right resources, anyone with at least a lick of musical ability can become a guitar ninja if they are passionate and willing to put in the work. Again, consider yourself lucky – our guitar heroes of the past didn't have the privilege of instant access to such a massive wealth of tools and knowledge.
Sadly, there isn't much in the way of mobile apps to propel you from clumsy beginner to rock god, or from advanced player to a guitar guru. There is no substitute to a good textbook on music theory, an inspiring teacher, and the treasure cove of online guitar schools like TrueFire and JamPlay. However, there is some stuff that beginning players could find very helpful when they are first starting out.