15 beautiful, free weather app replacements for iPhone and iPad
4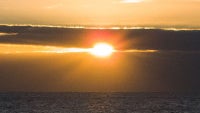 From its very conception, Apple's iOS has had a weather app on board. By default. That one has gone through some notable changes -- mostly visual -- and is very slick on iOS 8.
You can't delete the weather app, as it's a system one, but you can, luckily, get a third-party one, and the iTunes store is literally swarmed with those. This is both good and bad news, as it means that while you have an excellent pool of choices, you do have to work extra hard to filter out the not-so-good-ones from the ones that rival Apple's own solution in terms of aesthetics. We thought we'd help you out, and, as such, have picked a number of very stylish weather apps for you, some of which offer a lot of extra functionality over the built-in app. Best of all, they're free -- all of them.
Take a look and let us know if we missed one that simply
has
to be on the list!