11 classic watches you can buy instead of an Apple Watch
28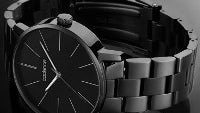 Now that the Apple Watch is up for pre-order, a lot of us will have a decision to make – "Do I dole out a couple hundred on a smartwatch, or should I instead just get a normal, classic timepiece for that kind of dough?" It's only natural that you ask yourself if an investment in an Apple Watch is worth it, especially if you don't dig sporty watches. That's because the cheapest Apple Watch, at $349, comes with a fluoroelastomer band that reminds a lot of rubber, and doesn't go well with fancier outfits. Anything more premium (like leather or stainless steel), and you quickly get into the thousands of dollars.
Admittedly, Apple is likely the only tech brand right now that can allow itself the audacity of asking for as much for a gadget that will likely become obsolete in a matter of two or three years. Given how the most expensive, 18-carat gold version of the Watch will run you the whopping $17,000, it's worth asking the question if you aren't better off with a Breitling or a Patek Phillipe that will likely last you decades and never go out of style. We picked a few of those, and across the price spectrum in order to match the Apple Watch's price points, and we have to say that unless you
really
want a smartwatch, you should definitely consider a classical timepiece.