10 of the best cases for the Sony Xperia Z3+ and Xperia Z4
5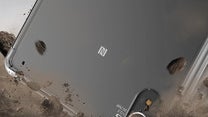 Imagine buying a shiny, brand new Sony Xperia Z3+ or Xperia Z4. Imagine yourself peeling off the protective plastic from its screen. Imagine your fingers touching its sleek glassy surface. It all feels good, doesn't it? Now imagine your Xperia falling to the floor after accidentally slipping off the counter's corner. Who's more likely to survive the impact unscathed – your Xperia or your kitchen's tiles? Our money's on the latter.
But while most smartphones, the Sony Xperia Z3+ and Xperia Z4 included, are fragile creatures, their odds of surviving all kinds of bumps and drops are greatly increased if they're wearing protection. And by protection we mean a protective case of some kind, covering the phone's back and sides.
If you want to protect your Xperia against the every day wear and tear, then you've come to the right place. We did a little digging on the internet in search of the best Xperia Z3+ and Xperia Z4 cases, and the ones below are the cases we liked the most. Check them out!