10 big, huge things that are somehow smaller than Apple's market cap and cash chest
27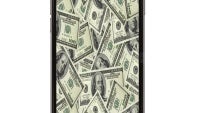 Apple's riches is a favorite topic of tech media; a bottomless well of inspiration for works of hyperbole, awe, blind devotion, huge numbers, and arbitrary financial comparisons that make varying amounts of sense, but contain mandatory "wowza!" of epic proportions.
If you are out of Apple's infinite financial loop, let us present you with a quick refresher - as of today, August 18, Apple's market cap is valued at $664.37 billion, and in the beginning of 2015, following an extremely successful last quarter of 2014, the value stood at a whopping $750 billion. Moreover, over the summer, the company's cash pile broke over $200 billion for the first time, reaching up to $203B in cold, hard cash.
Apple literally has more money than it knows what to do with, but that's its own, erm, problem to take care of. What we wanted to do is to give you a different, and hopefully entertaining perspective on how much of a big deal Apple really is from a business point of view. This is a list of 10 things that equal or approach Cupertino's massive value as measured in vast quantities of US dollars.