Motorola Razr 2022 vs Samsung Galaxy Z Flip 4
21
We may earn a commission if you make a purchase from the links on this page.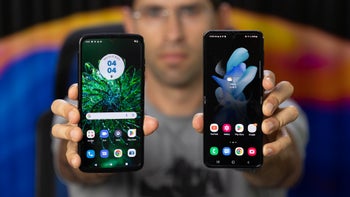 The 2022
Motorola Razr
foldable phone has better specs than the
Samsung Galaxy Z Flip 4
and a lower price before any
Z Flip 4 deals
that Samsung often has. Since Motorola's foldable also got released globally, we are priming them for a comparison fight to help you decide as the even better
Oppo Find N2 Flip
has now hit the tape at a lower price.
Key Motorola Razr 2022 vs Samsung Galaxy Z Flip 4 differences

The Razr 2022 has a faster, 144Hz main screen and larger 2.7-inch external display
Moto Razr 2022 sports a better camera set with 50MP sensor
The Z Flip 4 has a larger 3700 battery
The base Moto Razr 2022 is cheaper than the Z Flip 4
There is a Razr 2022 version with 12GB RAM
Razr 2022 charges faster
Motorola Razr 2022 vs Samsung Galaxy Z Flip 4 design and displays
Motorola Razr 2022 vs Samsung Galaxy Z Flip 4 design and display quality
When comparing the design of the Moto Razr 2022 with the other clamshell king with bendable screen that was announced in concurrence - the Z Flip 4 - we can't help but notice the more utilitarian, business-like look of the Razr, against the fashionable Flip with its 75 Bespoke color combos. Heck, even the camera island is sticking out on the Motorola phone like on most of them "rigid" phones these days, indicating larger sensors may be in play here.
The Razr is taller, thicker and wider than the Z Flip 4, and also slightly heavier. Its 6.7" 1080p display has a wider aspect ratio than the tall and slim 6.7-incher on the Flip 4, hence you have more screen real estate to gawk at on Motorola's phone. The only ho-hum part in Moto's design is its wide footprint, both in folded and unfurled states. You can barely hold the Razr with one hand, that's how wide it feels, and it always feels present in the pocket, too.
The front screen of the Moto Razr 2022 is much larger, too, at 2.7 inches against the 1.9-incher of the Galaxy, so you'd be able to see notifications and messages more clearly. The Galaxy Z Flip 4 sports the same 1.9-inch 260 x 512 pixels external panel like its predecessor.
The 120 Hz adaptive refresh rate of the 6.7-inch FHD+ Dynamic AMOLED 2X internal Infinity Flex Display with 2640 x 1080 resolution and 22:9 aspect ratio is still no match for the 144Hz refresh of the Motorola Razr 2022, the highest on a
foldable phone
. Moreover, the hinge crease is barely visible and the phone looks a bit more polished when unfurled as a consequence.
The fact that Motorola put one of the fastest displays on a phone out there in its clamshell foldable phone is pretty breathtaking, and the slightly lower vertical resolution means that the faster refresh shouldn't take a much higher toll on the battery compared to the 120Hz rate of the Z Flip 4.
The Z Flip 4 display is made of diodes crafted by
Samsung's newest M12 OLED generation
that offers brighter panel with less power draw, yet Samsung didn't win the brightness round as you can see from our display benchmarks below. Where it outshines the Razr's screen, though, is the color credibility and better color gamut coverage calibration.
Display measurements and quality
Samsung's 2022 clamshell foldable has a Bespoke edition, too, which introduces a number of new color combos for the front and back in Yellow, White, Navy, Khaki, Red, as well as for the frame which can be either Silver, or painted in Black or Gold hues.
Motorola Razr 2022 vs Samsung Galaxy Z Flip 4 performance
Coming with the newest Qualcomm Snapdragon 8+ Gen 1 chipset, both the Galaxy Z Flip 4 and the Motorola Razr 2022 carry the fastest processor for Android phones at the moment, and the slightly lower pixel density of the Motorola phone means its performance handily surpasses that of Samsung's phone. Provided the display is not running at its maximum 144Hz refresh rate, that is.
The 8GB RAM that come in all Galaxy Z Flip 4 versions, including the top 512GB storage one, is augmented by 50% more RAM in the Moto Razr 2022 for its 12GB/512GB model, making it the most powerful foldable phone ever created when we count the Snapdragon 8+ Gen 1 processor and the 1080p display resolution it has to render.
Motorola Razr 2022 vs Samsung Galaxy Z Flip 4 specs comparison
Specs
Galaxy Z Flip 4
Motorola Razr 2022
Dimensions
Folded: 6.50 x 2.83 x 0.27 inches (165.2 x 71.9 x 6.9 mm)
Unfolded: 84.9 x 71.9 x 17.1 mm
166.99mm x 79.79mm x 7.62mm
Weight
6.59 oz (187g)
200g
Screen
Main: 6.7 inches, 120Hz, (2640 x 1080, 22:9), 120Hz
Secondary: 1.9-inch, 60Hz

6.7 inches, 2400 x 1080 pixels, 144Hz
Secondary: 2.7-inch, 800 x 753, 60Hz
Processor
Qualcomm Snapdragon 8+ Gen 1
Qualcomm Snapdragon 8+ Gen 1
RAM and storage
8GB RAM
128/256/512GB internal memory
8GB/12GB RAM
128/256/512GB
Rear Cameras
Dual system
12MP main camera with 1.8 micron pixels
12MP ultrawide camera
Dual system
50MP main camera with F/1.8 aperture
13 MP Ultrawide
Front Camera
10MP Selfie Camera
F2.4, Pixel size: 1.22μm, FOV: 80˚
32MP

Battery Size
3,700 mAh
3,500mAh
Charging Speeds
25W wired/10W wireless
33W wired/10W wireless
Price at launch
$999.99 (128GB)

$965 (128GB)
Motorola Razr 2022 vs Samsung Galaxy Z Flip 4 camera
Besides the most processing and memory power on a foldable phone, Motorola equipped the Razr 2022 with a 50MP main camera sensor and a 13MP ultrawide/macro camera, which is again the most powerful camera set you'd find on a clamshell with a bendy screen.
At a 12MP main wide-angle camera with Samsung's Dual Pixel autofocus technology and optical image stabilization, as well as an aging 12MP ultrawide cam, the Z Flip 4 is no match, save for the large 1.8 micron pixel size that helps in low-light situations. The 10MP selfie snapper does a good job as you can see in the camera samples below, but the 32MP front camera of the Razr could churn out more details.
The Motorola Razr 2022 doesn't carry the new Camcorder mode of the Z Flip 4 that lets you use the phone as, well, a camcorder of yesteryear by bending it 90 degrees and holding the lower part in your palm, while recording and previewing with the upper. Something tells us that you can do just as good on the Razr by holding it in a similar fashion yet using the whole display as a viewfinder instead of its half only.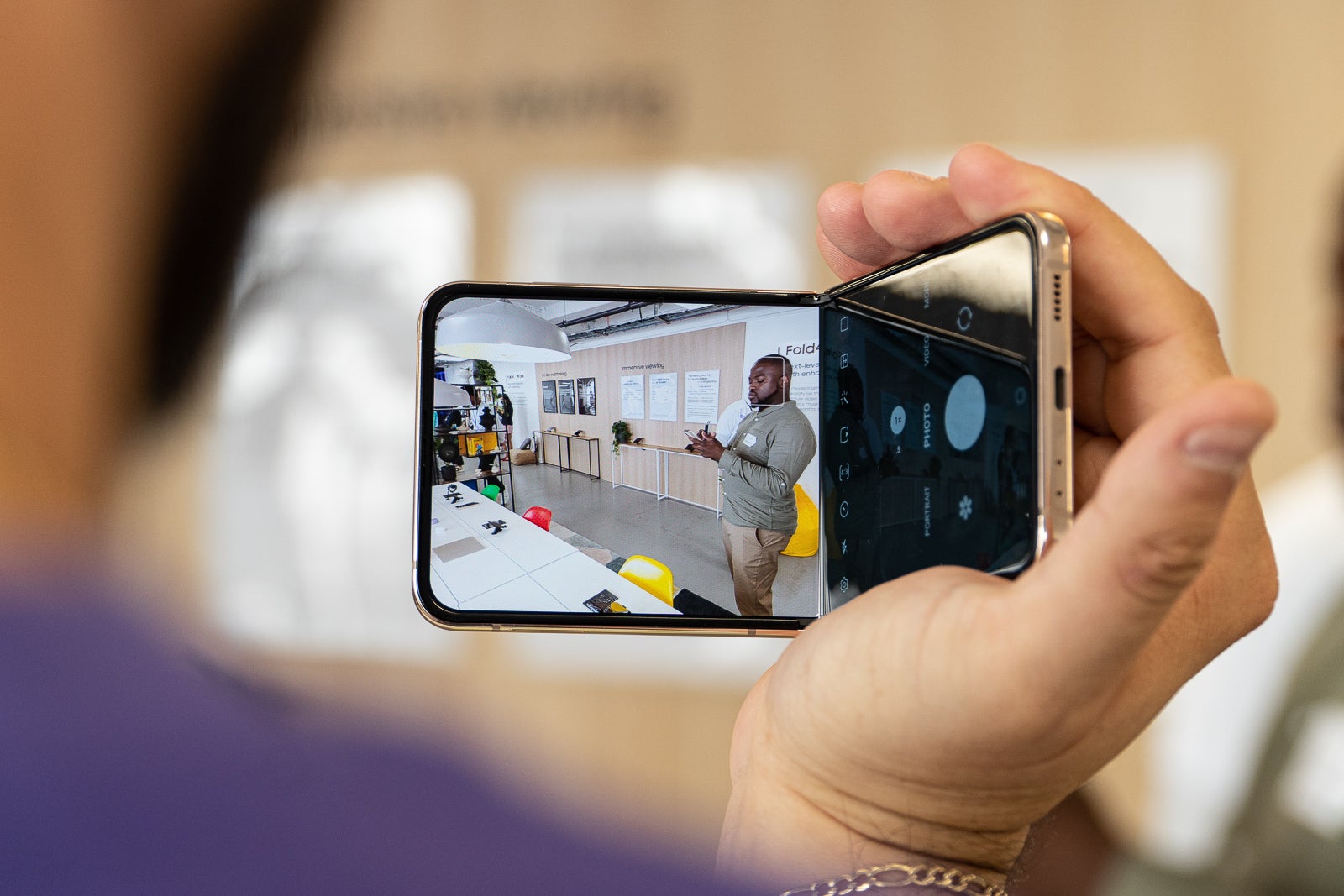 The Galaxy Z Flip 4's Camcorder mode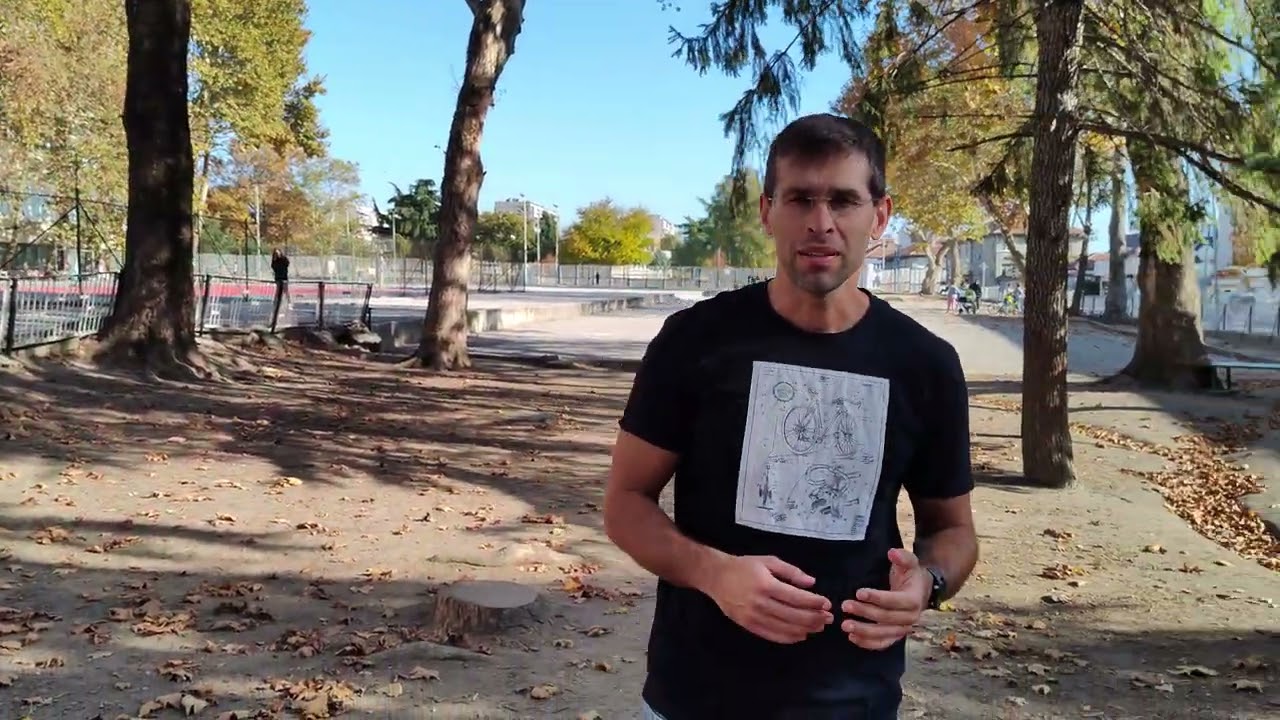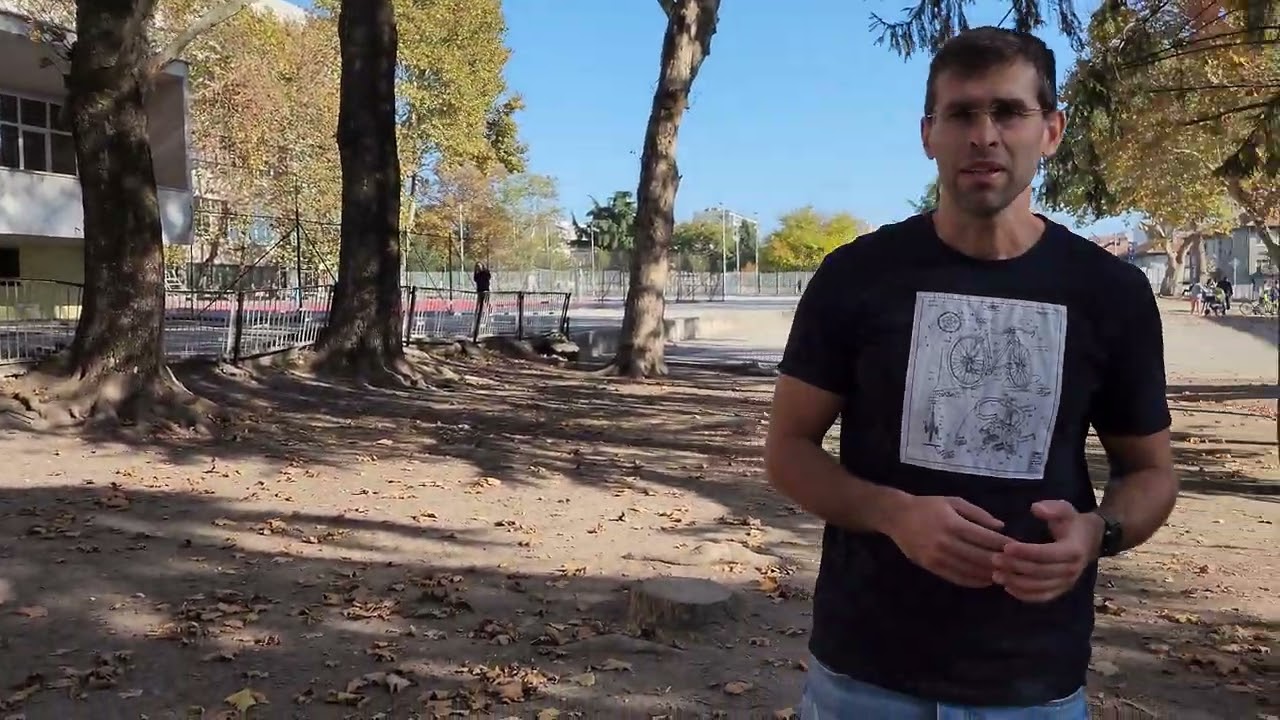 Motorola Razr 2022 vs Samsung Galaxy Z Flip 4 battery life and charging speed
The most important upgrade of the Galaxy Z Flip 4 over the Z Flip 3 is its larger 3700 mAh battery, but the Razr 2022 is not far behind with a 3500 mAh unit.
The battery life test returned mixed results. The Razr 2022 beats the Z Flip 4 handily in the YouTube streaming test when both phone displays were set at the same brightness, but gave way in the Wi-fi browsing test, which can be explained by the higher refresh rate of the Razr's display when rendering pages in Chrome.
Motorola offers faster, 33W charging speeds for the pack, against the 25W charging of the Z Flip 4. Samsung promises "
up to 50% charge in around 30 mins with 25W adapter
" but you could expect even shorter charging times with the Motorola Moto Razr 2022. Since its battery has to power and chipset to render less pixels than on the Z Flip 4, any battery life advantages of the
Samsung phone
stemming from the slightly larger battery capacity would become moot.
Motorola Razr 2022 or Galaxy Z Flip 4, which one to buy?
Barring any unforeseen hardware performance challenges, you'd be better off buying Motorola's clamshell, rather than the Z Flip 4. It offers more for a base price only 50 EUR higher than that of the 256GB Z Flip 4, if you can live with the wider body that Motorola compensates for with little to no visible crease.
Motorola did a very good job, crafting the fastest phone with foldable display at launch, and equipping it with the
best camera set
on such a handset, all at a great price. The 144Hz display is the first of its kind on a modern clamshell, as is the fine 50 MP rear camera. The battery life is also longer if you watch YouTube videos, rather than render websites at the 144Hz refresh that the display is capable of.
At the moment, the
best Z Flip 4 deals
include a Samsung store instant discount plus a bundle for your used Galaxy Z Flip 3, so you may want to go with the Flip 4. For all other intents and purposes, the Moto Razr 2022 seems a slightly better choice than Samsung's Galaxy Z Flip 4, especially if you manage to find it cheaper.
Recommended Stories