Sony Xperia 5 IV Review: The Undercover Superhero
24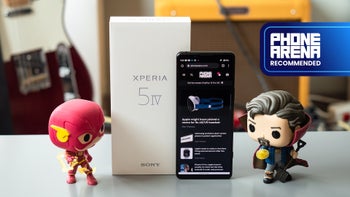 Sony Xperia 5 IV Intro
If phones were superheroes, the Xperia 5 IV would probably be Tony Stark but without all the media attention - for better or for worse. This is a phone for tech nerds but to be fair to Sony, the company has tried to make some of the features more accessible and easier to use for the regular Joe - you know, the person who doesn't need to hop in an Iron Man suit on a daily basis.
The Xperia 5 IV is the direct successor to the Mark III of the same compact lineage, and it mixes things up a bit in terms of upgrades (or downgrades). Sony has managed to make the phone even more compact (although by just a millimeter here and there) and this comes with certain repercussions.
Let's focus on the good news first. The Xperia 5 IV retains many of the great features of its predecessor - the SD card slot, the 3.5mm audio jack, the amazing display (now even brighter!), the front facing stereo speakers. Sony even managed to cram up a bigger battery inside this marginally smaller chassis, plus the necessary coils for the wireless charging system, which is a feat in and of itself.
The bad news is that the periscope camera with two separate focal lengths (70mm and 105mm) is now gone, replaced by a regular 60mm telephoto with the equivalent of 2.5x optical zoom. The retail box is also ascetic, as Sony has gone full eco (no charger or cable inside) but other than that, we have a really solid compact flagship on our hands. Let's dive in!
What's new about the Xperia 5 IV
Brighter 6.1-inch AMOLED display (1000+ nits), 120Hz refresh rate
Bigger battery - 5,000mAh (versus 4,500mAh on the Mark III)
Marginally smaller chassis (1mm shorter, 1mm narrower)
Closed back stereo speakers
Upgraded 12MP front camera
60mm 12MP telephoto camera with OIS (2.5x optical zoom)
Wireless charging
Table of contents:
Sony Xperia 5 IV
Unboxing
This is Sparta!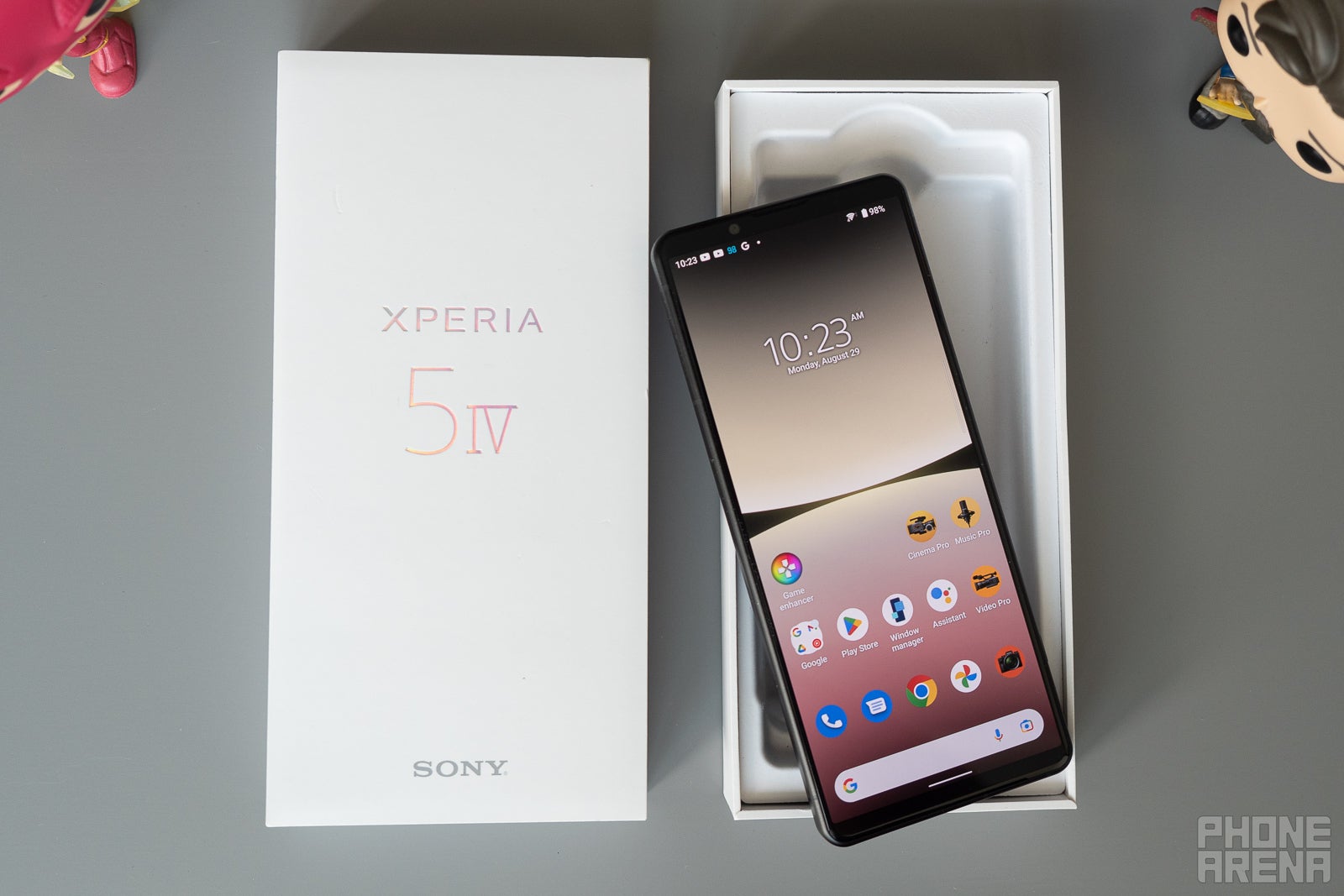 (Image credit - PhoneArena) You get a paper box and a phone inside
It doesn't get any simpler than that - there's a paper box and a phone inside, nothing more, nothing less. It's all part of Sony's Road to Zero initiative, there's no plastic in the packaging, and the box itself is 50% smaller.

You can make what you will of it but this trend is strong in the tech community and isn't going away anytime soon. No goodies in the retail box is always sad but it's a small price to pay for saving the planet, right?
Sony Xperia 5 IV Design and Colors
Unmistakably Sony
There's one word to describe the design of the Xperia 5 IV (and all the other siblings from the family) - unmistakable. Fans of Xperia phones recognize and cherish this elongated slender design, the lack of notches and cutouts and the symmetrical bezels.
The Xperia 5 IV follows in the same footsteps with minor tweaks here and there. For one, the metal frame is now chamfered - with flat main side and slightly curved sides where the frame meets the screen and the back glass.
It's not a huge difference when you look at the phone but in the hand it somehow feels more compact and premium with this small design change. Other than that, it's business as usual for Xperia - 3.5mm audio jack on the top, flappy SIM slot + SD card slot on the bottom, the left side of the frame is completely clean, and on the right there's the double action shutter button, the power/fingerprint button, and the volume rocker.
The pill-shaped camera bump is right where you would expect to find it - on the top left corner at the back. Speaking of the back panel - it's frosted glass (Corning Gorilla Glass Victus), and it's great at fending off fingerprints. The black glossy Sony logo in the center is also quite stylish. All in all, the design looks and feels very premium.
The Xperia 5 IV comes in three colors - Black, Ecru White, and Green. The Ecru White is the one that I like the most - it's a creamy white, similar to my favorite car paint - Honda's championship white color. The green option also looks classy, but of course nothing beats the classic black when it comes to style.
Sony Xperia 5 IV Display
Shine on you crazy diamond!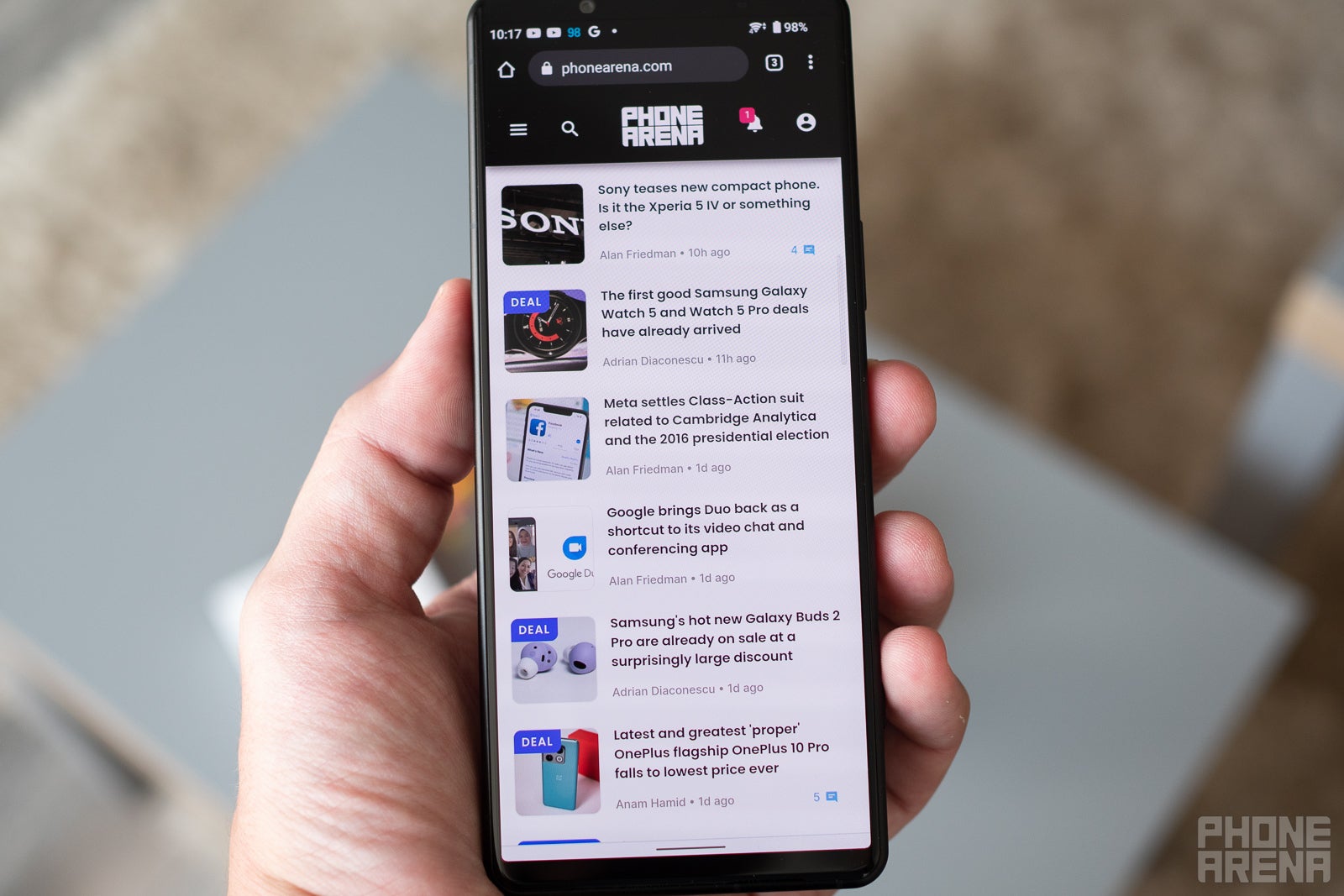 (Image credit - PhoneArena) The 6.1-inch AMOLED display of the The Xperia 5 IV
The Xperia 5 IV sports a 6.1-inch AMOLED display with FHD+ resolution (2520 x 1080 pixels) and Sony's trademarked 21:9 aspect ratio. Again there's some bad news and some good news. The panel is great! It's one of the brightest, most accurate displays we've ever measured.
Sony boasts a 50% increase in peak brightness, and we measured 1019 nits, which is right there at the top of our chart (the phones that managed to pass the 1000 mark can be counted on one hand).
If you want color accuracy, there's the Creator mode setting - it offers almost perfectly calibrated colors (DeltaE around 1.4), warm and natural hues, great for creators (duh!). You can choose to boost colors with the Standard mode and you can also finetune the white balance.
The bad news is that this isn't an LTPO panel, and even though it offers 120Hz, there are only two options - 60Hz and the said 120Hz. There's no dynamic mode to switch automatically between the two either.
What's even more frustrating is that when the phone gets hot, the display defaults to 60Hz. And it gets hot quite often, courtesy of the tightly packed internals. So, the display itself is amazing, but the way it's managed and driven - not so much.
Display Measurements:

In terms of features - there are a bunch. You have a comprehensive Always-on mode with cool options such as lift-to-show, smart backlight control (detects if you're looking at the phone and keeps the screen lit), night light, tap to show, wake up on key press, and more.
Sony Xperia 5 IV Camera
Less is more?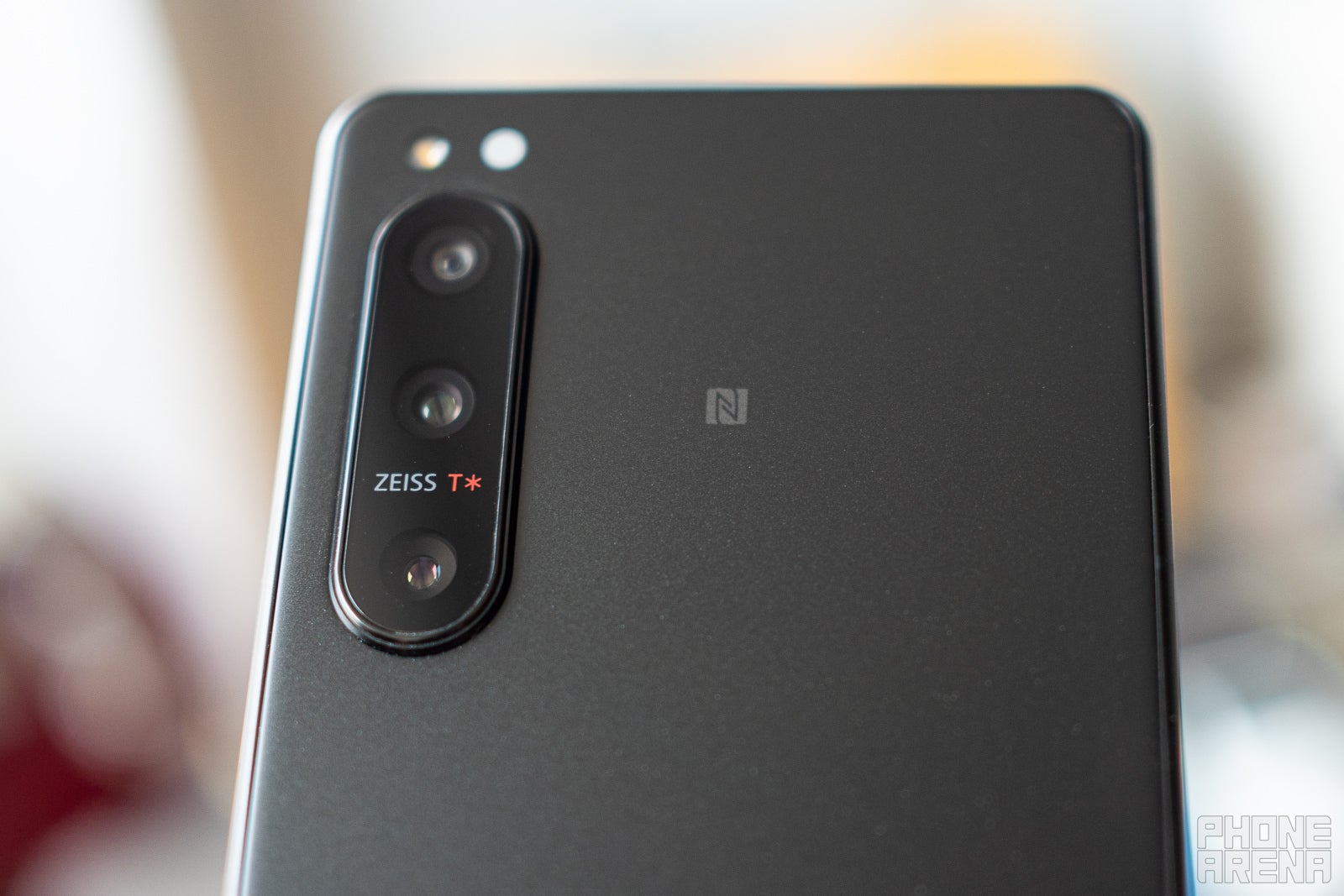 (Image credit - PhoneArena) The Xperia 5 IV has three cameras on the back
The camera system on the back of the Xperia 5 IV consists of three lenses with three sensors underneath. Gone is the periscope variable zoom lens from the previous model, and in its place we find a regular 60mm zoom lens.
Now, the logic behind this has to do with the physical size of the phone and the bigger battery - at least on paper. On the other hand, the Xperia 5 III is just one millimeter wider and another millimeter taller than its successor. It's mainly down to the bigger battery then - 500mAh more is a substantial upgrade.
Don't get me wrong, I take battery upgrades very positively (to me it's THE most important quality of life improvement in any smartphone). The thing is - this new 60mm (2.5x zoom) camera is not spectacular. It's not bad, just a downgrade compared to the 70mm-105mm variable zoom system in the previous model.
Sony keeps using focal length when describing its camera systems which will make photography enthusiasts happy. The main camera is a 24mm lens with an aperture of 1.7, and a 12MP 1/1.7-inch sensor underneath, and optical image stabilization onboard.
The ultrawide camera is a 16mm, f/2.2 12MP, and a smaller sensor - 1/2.5-inch. All bells and whistles from the Alpha department are here - with some extras on top. You have real-time eye-tracking autofocus on all lenses, object tracking (now with predictive AI algorithms and distance measurements).
We can spend all day talking about different aspects of the Photo Pro app, or Cinema Pro, Videography Pro - the whole "professional" suite that Sony's so proud of. And in all honesty, if there's a brand that deserves the "Pro" moniker on its phones, it's Sony.
Thing is - very few people would have the patience and dedication needed to go through all these details when taking shots. Hardcore photography enthusiasts, semi- or professional vlogers, etc. Normal people would prefer to click on the amazing double action shutter button (I can't believe only Sony's doing it, must be patented), and get a great picture.
Sony knows all this and even though Photography Pro is the default camera software, it launches in Basic mode and gives you a trimmed down experience, while keeping all the professional and cool stuff happening in the background.
Actually, every time your Xperia 5 IV screen locks up, the camera defaults back to this Basic mode, even if you've just set up your perfect manual shot. I was going to complain about this approach (very frustrating) but there's an option in the camera menu to use the last setting used (which must be activated by default, if you ask me).
Images from the main camera and the ultrawide are pretty good with lots of detail, good dynamic range and similar tonality. The 60mm telephoto lens on the other hand tends to overexpose shots, and the colors turn out warmer. It's a new lens/sensor combination for Sony, and obviously needs more tweaking to get it perfectly right.
If you're shooting in Basic or Auto mode, the algorithms will inevitably decide on the scene and the settings. And they work quite well. Night mode activates automatically when there's not enough light, and if you have a steady hand you can get some good results. Nothing super impressive but as we all know, Sony strays away from unnatural, over processed bright-like-day night pictures (and images in general).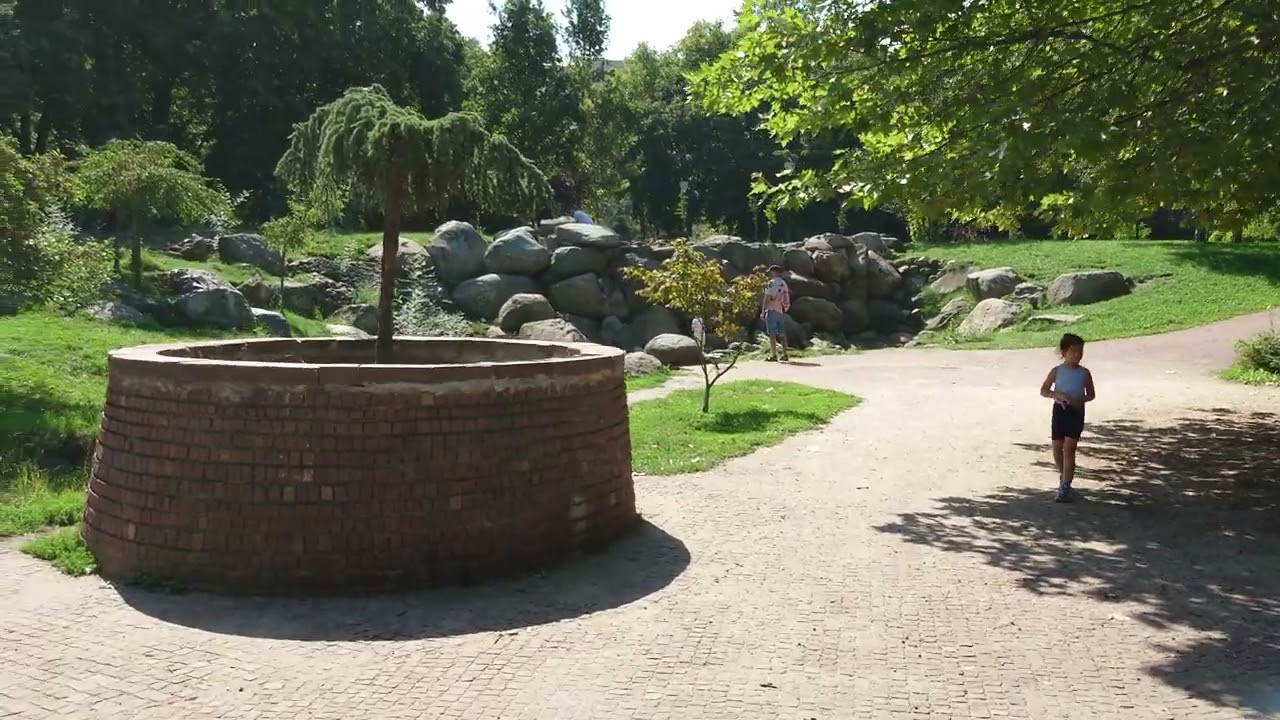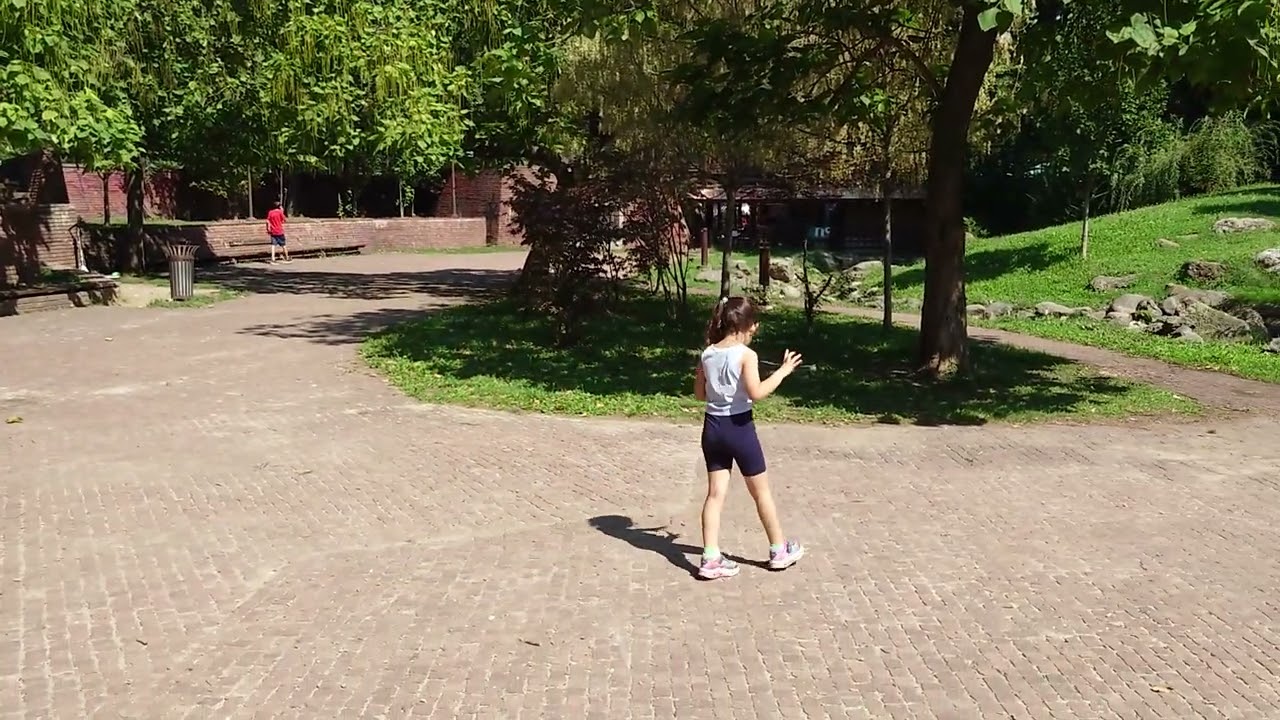 The Xperia 5 IV can shoot up to 4K videos, but the 1080p at 60fps is the best-looking option. You have both OIS (optical image stabilization) and EIS (electronic image stabilization), and the end result looks much smoother with good detail and accurate colors.
You can switch between lenses while shooting and even though there's a nice zoom-in/zoom-out effect, it's primarily digital and there's a loss of focus during the transition. Object tracking and eye-tracking autofocus work as advertised.
One of the big improvements over the previous model is the new front camera, which is now 12MP and with a slightly larger sensor. You can also use Bokeh to make your selfies look more professional (the equivalent of Portrait mode). The results are pretty decent - much better than what was possible with the last-gen model.
Sony Xperia 5 IV Performance & Benchmarks
There's no plus here but it's okay
Sony has obviously decided to go the plus-less road when it comes to the latest Snapdragon, the Xperia 5 IV comes with the regular Snapdragon 8 Gen 1 onboard. It's not a big deal - the phone feels snappy enough, and the synthetic benchmarks put it right where it belongs - in the elite.

The performance is actually almost identical to the Xperia 1 IV, which is great, considering the smaller chassis. Speaking of which, the phone gets quite hot quite often, and from time to time the camera would shut off, or the display would switch back to 60Hz.
Performance Benchmarks:
The storage configuration is 8GB of RAM coupled with 128GB of onboard storage (a bit on the lower side for a flagship phone) but there's a microSD card slot, so you can expand the latter with up to 1TB.

The side-mounted fingerprint scanner deserves a few words here. Sadly, it's not the fastest one out there (this award goes to Asus for the super-fast scanner in the Zenfone 9), but it's pretty accurate. You may get some false activations if the phone is loose in your pocket but overall it's an improvement over the previous model.
Sony Xperia 5 IV OS / Android version
The Xperia 5 IV comes with Android 12 onboard, and there's little to no bloatware present. Actually, you can choose what to install when you set up the phone initially, and the overall experience is close to stock.
Side sense is still here - for those of you who don't know anything about it - it's a shortcut stripe close to the edge of the display, which you activate by tapping twice on it. You can launch apps, take screenshots, view notifications, and also multitask via the 21:9 multi-window feature.
Music Pro
Sony debuted the Music Pro app on the Xperia 1 IV but it wasn't available at launch. This software allows you to record music (guitar, bass, vocals, etc) with studio-grade quality, mix different tracks, export your creation and share it with ease. You can use headphones (there's a 3.5mm jack) to listen to tracks you've already recorded and double track, overdub, record harmonies, etc.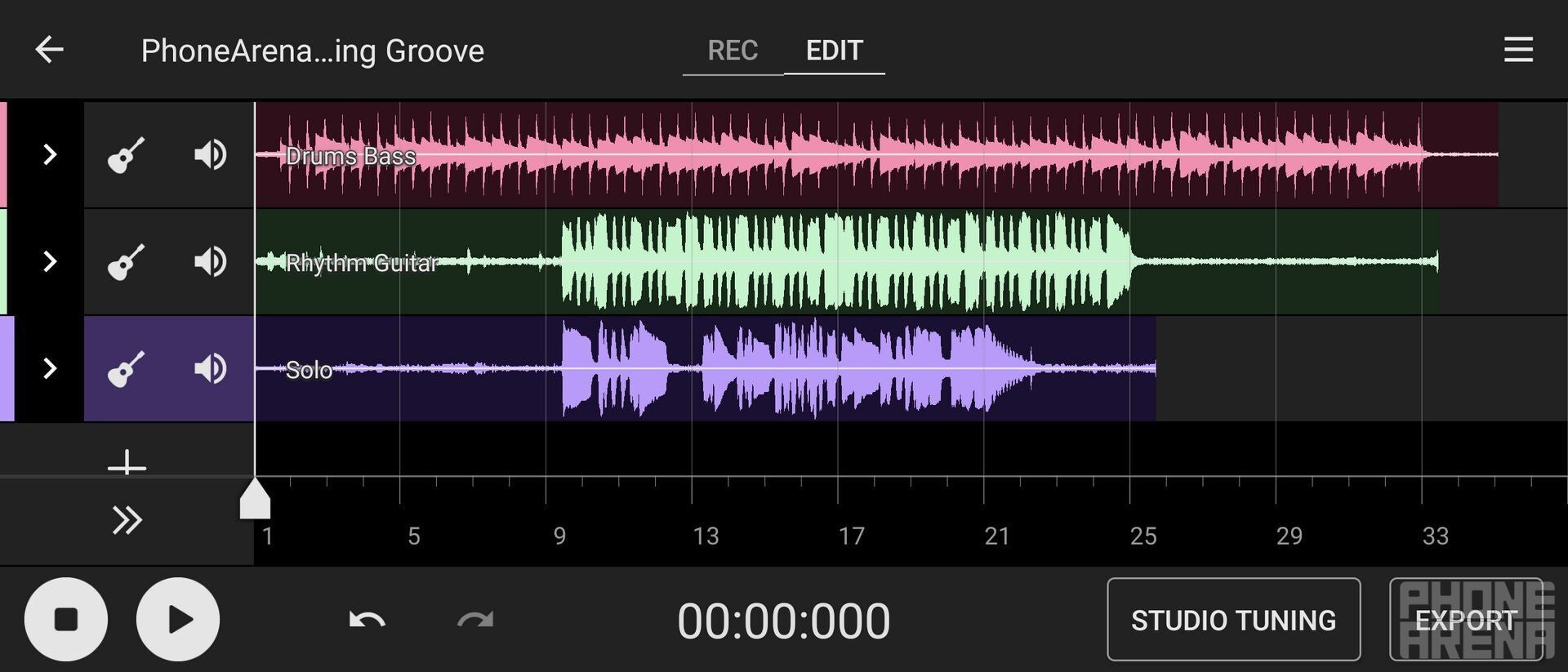 Image credit - PhoneArena) The Music Pro app
I'm not sure about the studio part but the app works and you can use it to create songs on the go, if you're far away from your Pro Tools-equipped machines, and there's a jam suddenly happening around the bonfire.
There's a subscription version of the app that allows you to upload your tracks to the cloud and apply some AI magics to make them sound better. The free trial allows you to upload 100MB of data, while the Basic bumps up that to 1GB. Pricing may vary per region but it's a cool idea and as an amateur musician myself I can see the benefit of such an app and service.
Cinema Pro
The cool Hollywood-inspired Cinema Pro app is back in all its glory. You can apply different presets (such as Venice CS, Soft, Monochrome), as well as control every aspect of the movie project you're making.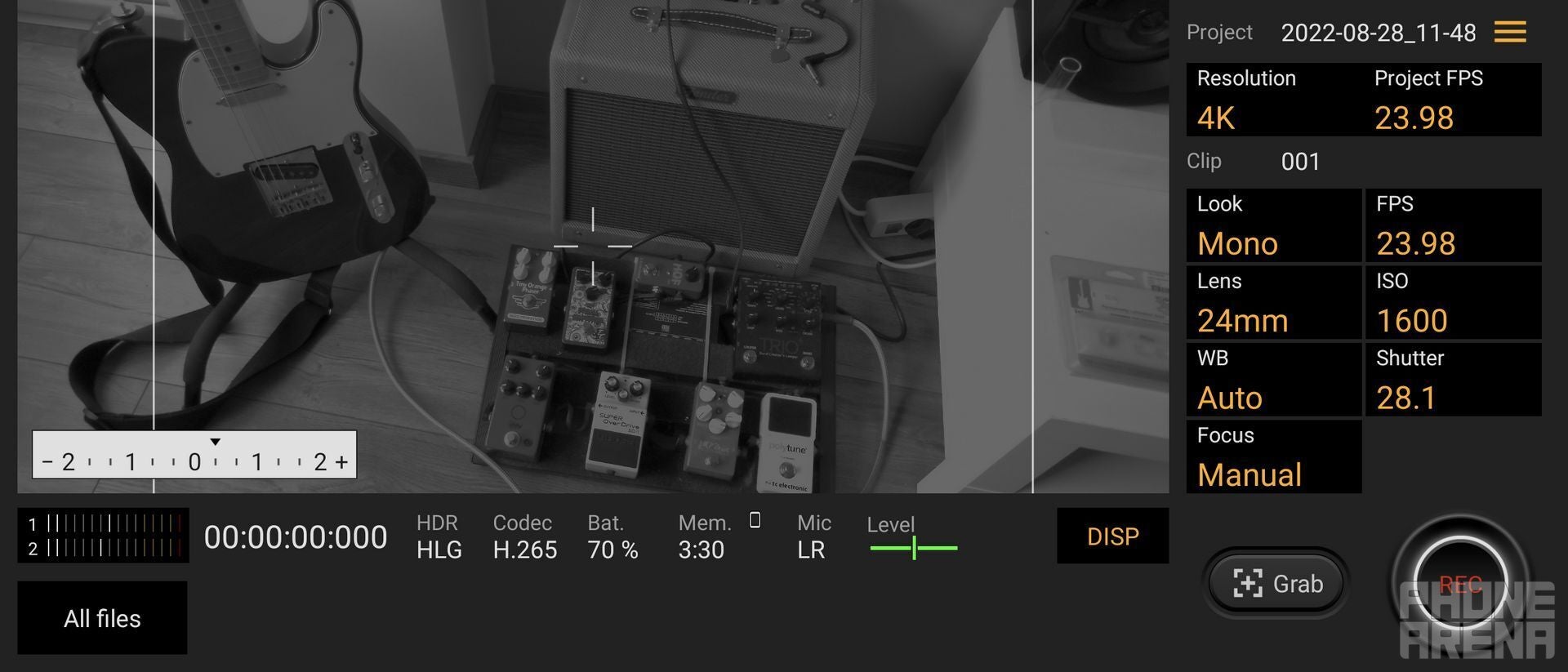 Image credit - PhoneArena) The Cinema Pro app
This absolutely is a professional tool, and if you're not a movie director, or a cinematography major you probably won't have the dedication to explore all the settings and fine details inside this app. Nevertheless, it is there for you if you decide otherwise.
Videography Pro
Another way to create content - Sony is serious about catering the Xperia 5 IV toward vloggers, streamers and content creators of all kinds. It's another interface that simulates classic camcorders, and while it doesn't necessarily add much to the table in terms of features, it might click with you and become your preferred tool for making videos.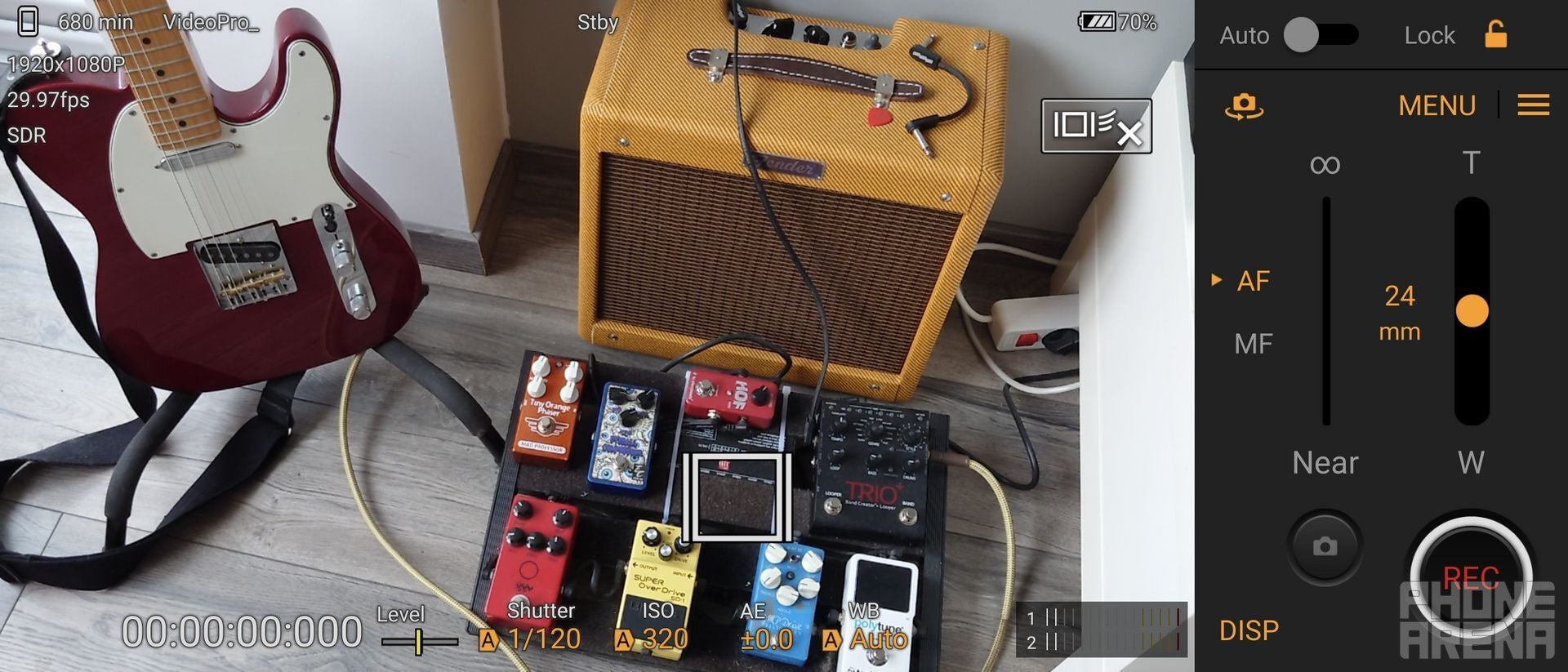 Image credit - PhoneArena) The Videography Pro app
Game Enhancer
If you want to game on your Xperia 5 IV you absolutely can, and the Game Enhancer is there for you to offer assistance. You can just play with 240Hz touch sampling rate, gamma correction (to light up the dark areas and take that headshot), audio enhancements, or stream your gameplay directly to YouTube (no 1000 subscribers needed) and show the world your gaming prowess.
All in all, Sony's software package is really robust, and even though you probably won't use every single professional feature or app, it's nice to know that they're all there, waiting for that burst of creativity.
Sony Xperia 5 IV Battery
Endurance athlete
Sony somehow managed to cram up a 5,000mAh battery in the compact chassis of the Xperia 5 IV (and create some heat - quite literally too), which is one of the most important upgrades compared to the previous model.
The battery life is solid, you can get two days quite easily, and even the most demanding power users will have their full day of tinkering with the Xperia 5 IV.
The benchmarks below don't show the whole picture - the heat causes Xperia 5 IV's display to revert to 60Hz, so the gaming benchmark is kinda out there. But all things considered, the battery life is really solid for a Snapdragon 8 Gen 1 flagship with a big and bright 120Hz display.
PhoneArena Battery Test Results:
Sony Xperia 5 IV Charging Speeds
Another big improvement is the addition of wireless charging - Sony somehow found the space to slap a wireless charging coil in there! The wired charging support caps at 30W, and according to Sony, you can fill 50% of the battery in 30 minutes using these speeds.

Here's the charging profile we were able to snapshot:
15 minutes - 20%
30 minutes - 40%
45 minutes - 50%
Full charge - 110 minutes
Sony Xperia 5 IV Audio Quality and Haptics
There's a pair of front-facing stereo speakers inside the Xperia 5 IV, and this time around both are encapsulated. The reason behind this is the feedback from the previous model - some users complained that at loud volumes there are vibrations inducted into the chassis.

The Xperia 5 IV is plenty loud but the vibration problem persists - at max volume you can feel the phone rattling and the quality drops down. If you keep the volume below 80% you'll be fine though. And with the 3.5mm audio jack your audiophile experience is guaranteed.
Sony Xperia 5 IV Competitors
It's really hard to compete with a phone that has a 21:9 aspect ratio screen, microSD card slot, 3.5 audio jack, and a cool bunch of professional apps. On the other hand, it's amazingly easy. Let me elaborate.

People who want all these features are probably already on the Xperia train, and with that being said - the main competitors here are the Xperia 1 IV, and the Xperia 5 III. The former offers the true variable zoom camera system, and the latter is cheaper and with a more flexible camera system, while keeping the compact form factor.

For everybody else, the nerdy staff is not that important, and with a price tag of 1,049 euros the Xperia 5 IV is up for a bumpy ride. That kind of money will buy you pretty much every major flagship phone out there, barring those with flexible screens (actually, you can get the Z Flip 4 for less).
Sony Xperia 5 IV Summary and final verdict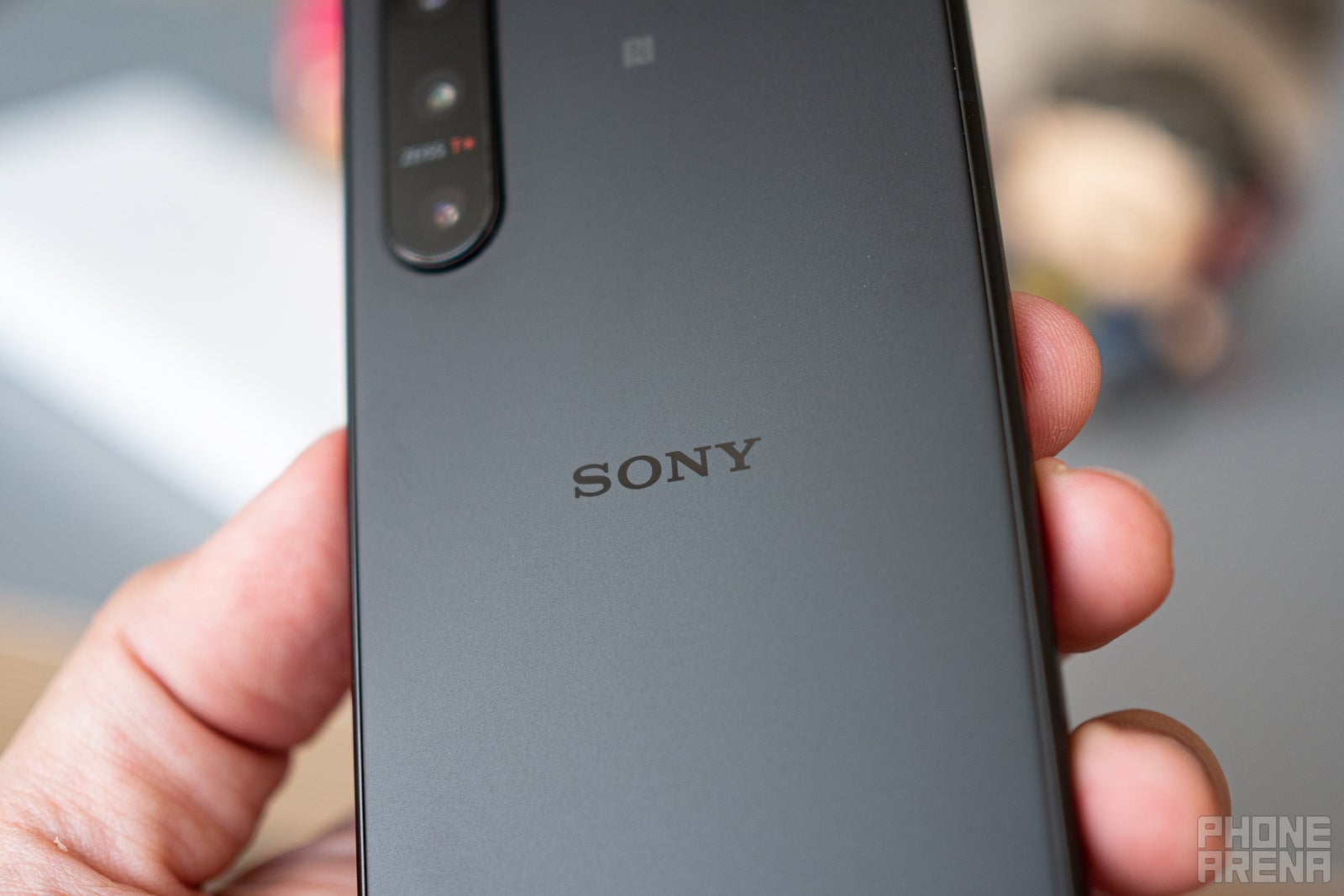 Image credit - PhoneArena) Sony fans will love the Xperia 5 IV
And there you have it - the unmistakable Sony experience! It's radically different from anything you've seen, if you've never tried an Xperia phone before, that is. This is a superhero under cover, ready to swap its tuxedo for a Superman costume and save the day. You just have to know which buttons to press.
The Xperia 5 IV is a great phone for Sony fans, professional and semi-professional content creators, and people who like to go against the grain. If you're feeling adventurous, or you want to switch your phone experience to something new and fresh, the Xperia 5 IV can do this for you. But at a price - a four-digit price to be exact.
Recommended Stories