Samsung Galaxy Note 20 review: plastic jewelry
34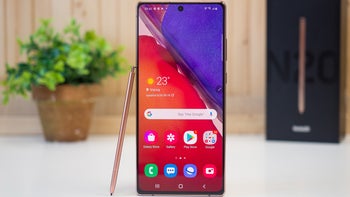 The
Samsung Galaxy Note 20
is the "cheaper" Note to buy this year. But it still has an MSRP of $999 and is lacking some pretty basic premium features to the point it's insulting.
If you can't (or don't want to) shell out $1,299 for the top-tier Galaxy Note 20 Ultra, I wouldn't recommend settling for the Galaxy Note 20. In fact, last year's Galaxy Note 10+ or Note 10 might be better choices than this plastic jewel.
Now,
Samsung
phones are very often sold at discounts by carriers and partner stores, so if you shop around, you probably won't be paying $999 for this phone. If you can grab it with a $150 or $200 discount — sure, it can be worth it.
Samsung Galaxy Note 20 display and design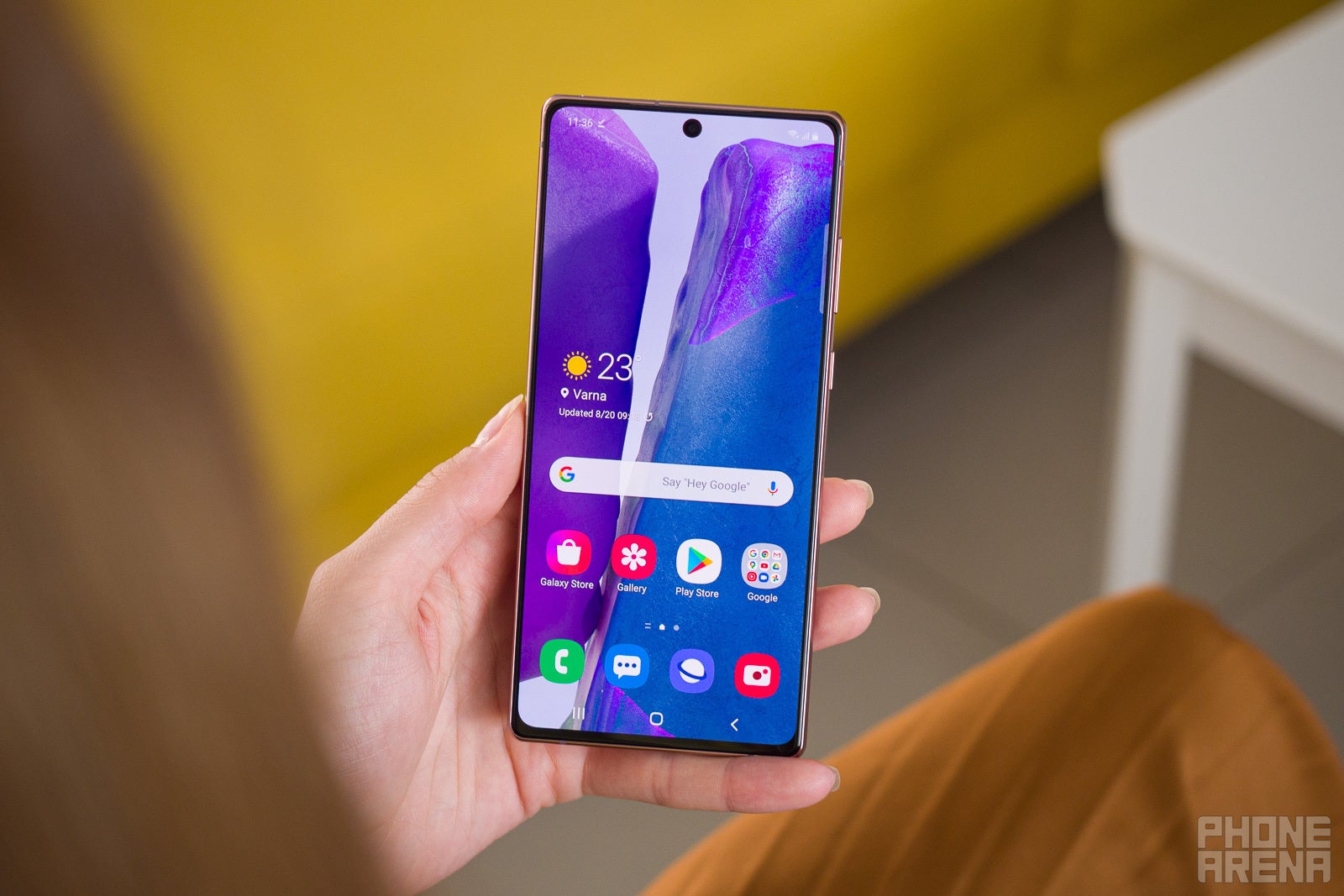 Unlike last year, we don't have a "small Note and big Note". The Galaxy Note 20 is almost as big as the Note 20 Ultra — the cheaper model has a 6.7-inch screen with a 20:9 aspect ratio, the Ultra has a 6.9-inch display with a 19.3:9 ratio. In other words — they are both big, immersive screens on huge, two-hand phones.
The Note 20's screen has a resolution of 1080 x 2400 — it's no crazy quad HD, but it has a pixel density of 393 PPI. Don't worry, it's plenty sharp, and even pixel peepers won't find jagged edges.
The real disappointment is that the Note 20 does not have a high refresh rate screen. It's planted firmly in 2019 and its refresh rate is capped at 60 Hz. Let's put this in perspective — the €400 OnePlus Nord has a 90 Hz screen, the $700 OnePlus 8 has 90 Hz, the $800 Google Pixel 4 has 90 Hz, the $900 OnePlus 8 Pro has 120 Hz, the $1,000 Galaxy S20 has 120 Hz.
Considering that the Note 20 has the same processor as the Note 20 Ultra… it kind of feels like the refresh rate has been capped on purpose, doesn't it?
Display measurements and quality
But let's add some insult to injury. The Note 20 is plastic and that's not fantastic. OK, it does have a metal frame, but your hands will mostly be in contact with the big plastic panel on the back. And you can feel it — it does not feel "$1k nice". It doesn't even feel like a Galaxy Note 10 Lite. It's warm, slightly sticky, and flexy. But hey, it does provide a nice grip, I guess?
A couple of defense arguments might arise — "That's a first-world problem of a spoiled reviewer" and "You are just going to put a case on it anyway". To that I rebut — a $999 phone is a first-world phone, and a phone manufacturer should never design a device with the presumption that users will always use it with a case.
Now that I've gotten this out of my system — the Note 20 is really comfortable to hold and feels light for its size, probably due to good balancing. The display panel is flat, so those that were annoyed by the curved edge screens of the past will be happy with this one. The camera module on the back does not look comically huge, like on the Note 20 Ultra, and the phone looks pleasing to the eye from every angle.
Samsung Galaxy Note 20 camera & audio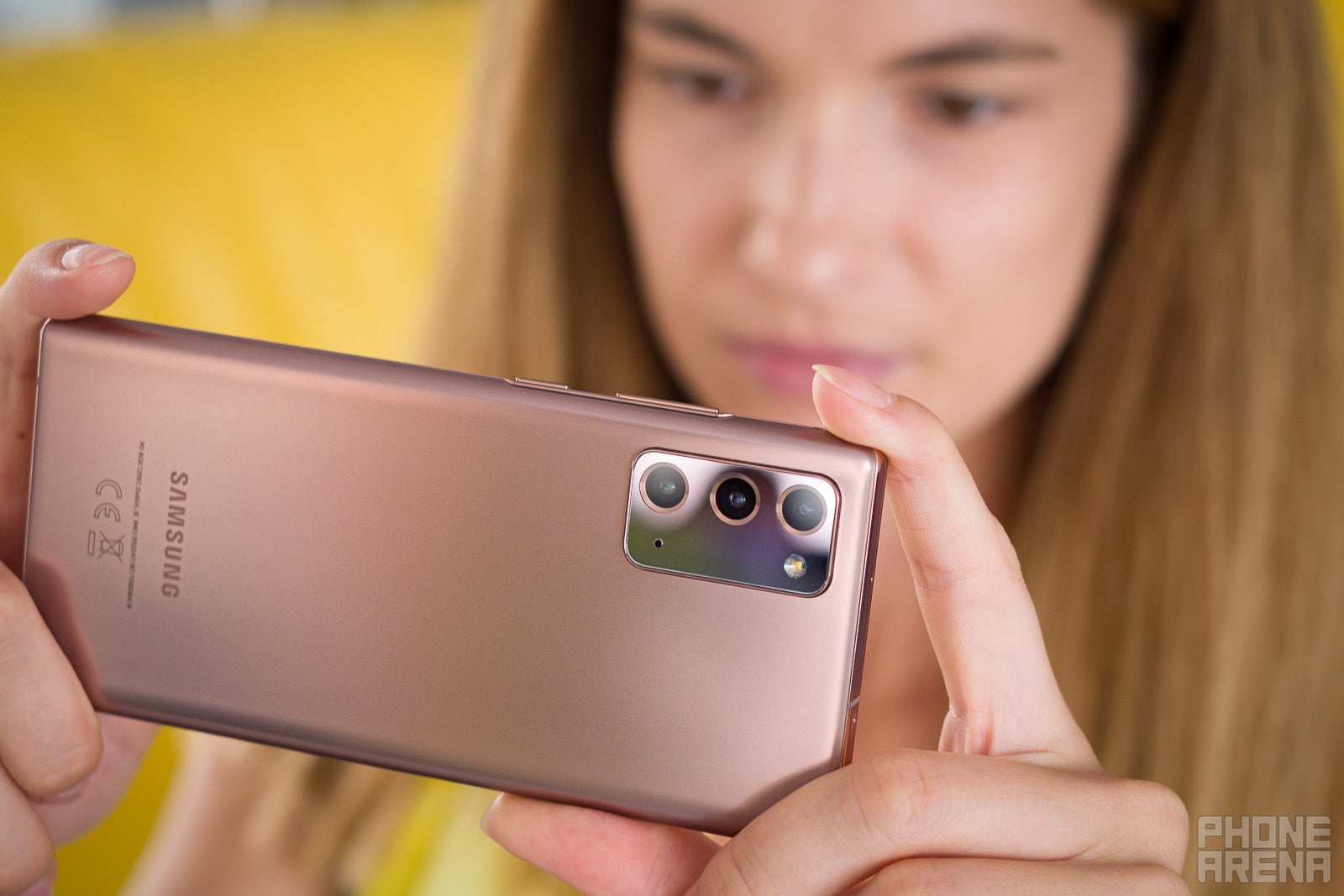 The Galaxy Note 20 has a 12 MP main camera, a 12 MP ultra-wide camera, and a 64 MP camera, that's listed as "telephoto", but in reality, it crops in digitally to achieve that effect. OK, water under the bridge.
The photos from the Galaxy Note 20 look fantastic, there are no two ways about it. Amazing dynamic range, thanks to the intelligent HDR, great details, and colors that are amped up just enough to make the photos "pop" without looking fake… at least most of the time.
It can reach up to 30x digital zoom, though — despite all of the software sharpening that's going on in the background — the images begin looking washed out and blurry once you go beyond 10x.
The ultra-wide-angle camera also produces very pleasing images. Corner distortion is corrected in post to stay away from the fisheye effect, while colors, dynamics, and details are as on point as on the main camera.
The front has a 10 MP selfie camera, which catches details pretty well and keeps skin tones natural. It has a wide viewing angle — the phone will automatically zoom out when it detects 2 or more faces in the shot. Or, you can do it manually.
We have a Portrait mode (Live Focus, Samsung calls it) on both front and back cameras. Edge detection is pretty good and the background does blur gradually. It still doesn't look super convincing, but then again — no phone does just yet.
The Galaxy Note 20 Ultra supports 8K video recording at 24 FPS. If you choose to go 4K or below, you've got a choice of 24 FPS, 30 FPS, and 60 FPS. There's two tiers of software stabilization on top of the optical image stabilization module that's embedded into the camera. You can take some pretty smooth videos with this phone.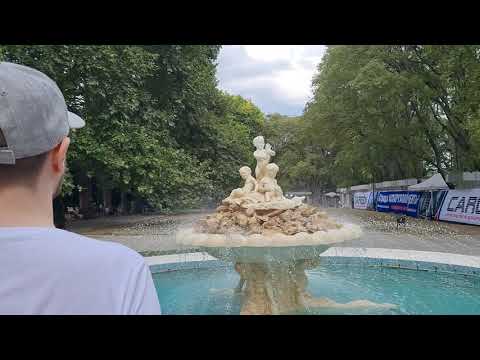 When it comes to audio, we've got stereo speakers that can get decently loud. They have a pronounced lower mid hump, so they can sound a bit mushy — not as detailed on the Note 20 Ultra. But otherwise, they work perfectly for YouTube videos, podcasts, alarms.
Samsung Galaxy Note 20 performance and software
The Note 20 is powered by a Qualcomm Snapdragon 865+ in the US and select markets, and Samsung Exynos 990 internationally. It's powerful and it's snappy. Sometimes, it doesn't feel as smooth as the Note 20 Ultra, but that's probably due to the lack of 120 Hz. Yes I am still on that.
With 8 GB of RAM and the latest chipset under the hood, the Note 20 is a powerhouse — it can run anything and everything you throw at it and ask for more.
The full DeX suide is here — you can transform your Note 20 into a desktop machine by connecting it to a monitor with a USB Type-C to HDMI file or — for the first time ever — connect it wirelessly to a smart TV or Miracast device.
And yes, we have an S Pen nested into the Note 20 — otherwise, it wouldn't be a Note, right? In raw specs, the Note 20 has a 25 ms response time. In reality, it's quick, feels natural, and responds really well to pressure or angling. It's a joy for anyone who wants to write or draw on their digital screen.
The huge screen of the Note 20 would go to waste if we didn't have multitasking capabilities, too. And One UI 2.5 has the full pack – split screen, floating windows, and the custom app tray that you can bring up by sliding in from the side of the screen.

Samsung Galaxy Note 20 battery life
With a 4,300 mAh battery, the Note 20 can keep its screen on for quite a while. It lasted just as much as the Note 20 Ultra on our battery life test and gave us all-day endurance in our regular usage. It's certainly not a champ in that department, but you'll be fine with overnight charging. Or, just use the supplied 25 W fast charger to top up fast when you're in a pinch.
Recommended Stories