LG Optimus F3 Review
6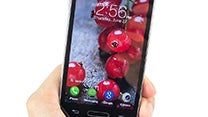 Introduction:
LG is never one to shy away from gaining traction in the entry-level segment of the market, seeing that it's still highly regarded as the bread and butter of a company's growth opportunity. Likely one to attract people to its $29.99 on-contract cost, the
LG Optimus F3
for Sprint might look like an inferior port of LG's flagship devices, but don't be fooled for a moment to think it's automatically a forgettable thing.
The package contains:
microUSB cable
Wall Charger
Quick User Guide
Important Safety and Handling Information
Design:

When you're priced so low, there are only few directions you can go with design – so that's the case here with the Optimus F3! No doubt,
the handset does feel cheap
with its construction, due to the handset's hollowness, lightweight feel, and textured plastic casing. Nevertheless, we do appreciate that it's compact and comfortable to hold in the hand. Visually speaking, it might have a similarity to some of LG's more prestigious offerings, but upon closer inspection, it's obvious that it's rather boring with its design.
Just like some other recent Optimus devices, the F3 also features
an LED-lit home button
, which pulsates in various colors depending on the type of notification – something that proves to be useful in keeping us aware. Looking
around the sides
of the phone, we spot its power button, volume control, noise-cancelling mic, 3.5mm headset jack, standard mic, and microUSB port for charging/data connectivity.
Armed with a 5-megapixel camera
in the rear, with a front-facing 0.3-megapixel VGA one in the front, it's pretty much within line to what we expect out of an entry-level device. However, it's comforting to know that it's also packing along a microSD slot after its rear casing is removed, which also conceals its microSIM slot and beefy 2650 mAh battery.
Display:
Once thought as a cutting-edge resolution, the 480 x 800 WVGA resolution of the Optimus F3's 4-inch IPS-LCD panel easily fits its budget status – albeit, it's nothing to write home about. For the most part, it's usable enough to use with most things, but it's still without its own flaws. Specifically, details can be insignificant at times, which is noticeable when you're in a zoomed out view in the browser. At the same time, its weak viewing angles can cause things to distort and fade – making it difficult to view under the sun.
LG Optimus F3 360-Degrees View:
Recommended Stories