Sony announces the Xperia 1: super-tall, 4K OLED display, cinematic camera features
18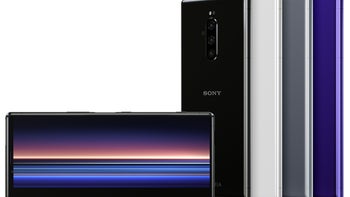 As expected, Sony also has a few devices for us at this year's MWC. Among them is the Sony Xperia 1. Yep, it's a flagship and it seems the Xperia line has been repranded again. Consider this as the successor as the Sony Xperia XZ3.
All that said, let's see what this new jewel of technology is all about!
Design and display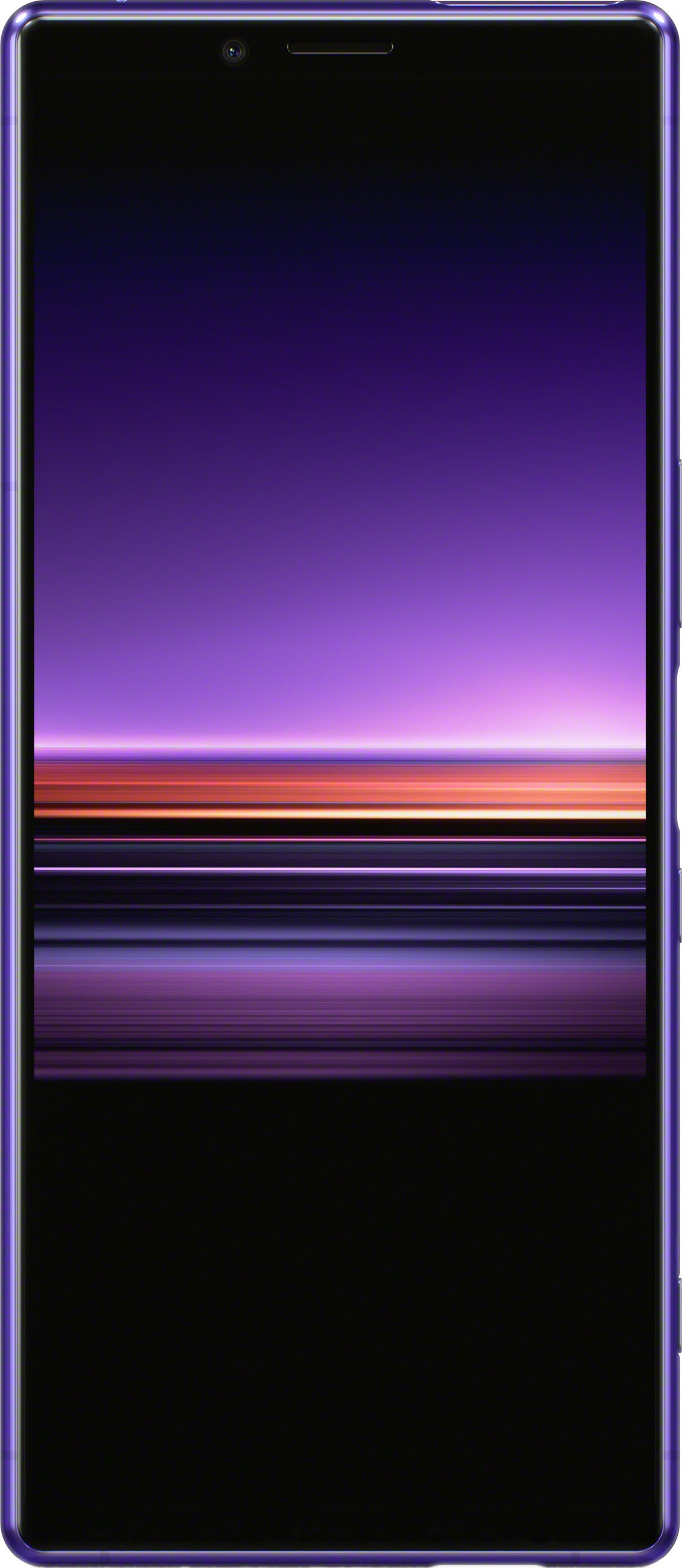 Sony sticks to its guns of making strictly rectangular phones with straight lines and timeless, simplistic elegance. The Xperia 1 does away with the arched back that the XZ2 and XZ3 had and returns to a simpler flat back construction. Still, the glass panel on the phone's behind curves towards its edges to ensure a softer feel in the hand.
The fingerprint scanner has also been moved — it is now embedded in the power key on the right side of the device, just like it used to be with the old Xperia Z phones.
You will notice that the handset appears to be really, really tall. That's because the 6.5-inch display on the front has an aspect ratio of 21:9, making it an ultra-wide screen able to fit cinema-ready movies.
It's an OLED display, too, with a mind-boggling 4K (1,644 x 3,840) resolution for an extra-crisp image. The phone also offers 10 bit tonal gradation for finer representation of different colors.
Sony Xperia 1 size comparison vs Galaxy Note 9, iPhone XS Max, Galaxy S10+
So, yeah, it's a rather tall phone. It'll probably be hard to reach the notification shade when using the phone with just one hand. To give us an idea of how it compares to other popular phones, size-wize, here's a quick look at how it stacks up next to popular competitors that are in the 6.5-inch screen ballpark:
Stereo sound is back with a punch
Sony has always provided a stereo sound experience on its flagship phones and it does so with the Xperia 1 as well. The company developed a "multi-dimensional" sound in partnership with Dolby Atmos for this device and claims that it'll elevate your mobile media experience. Of course, we can't wait to test it and see how it holds up.
Camera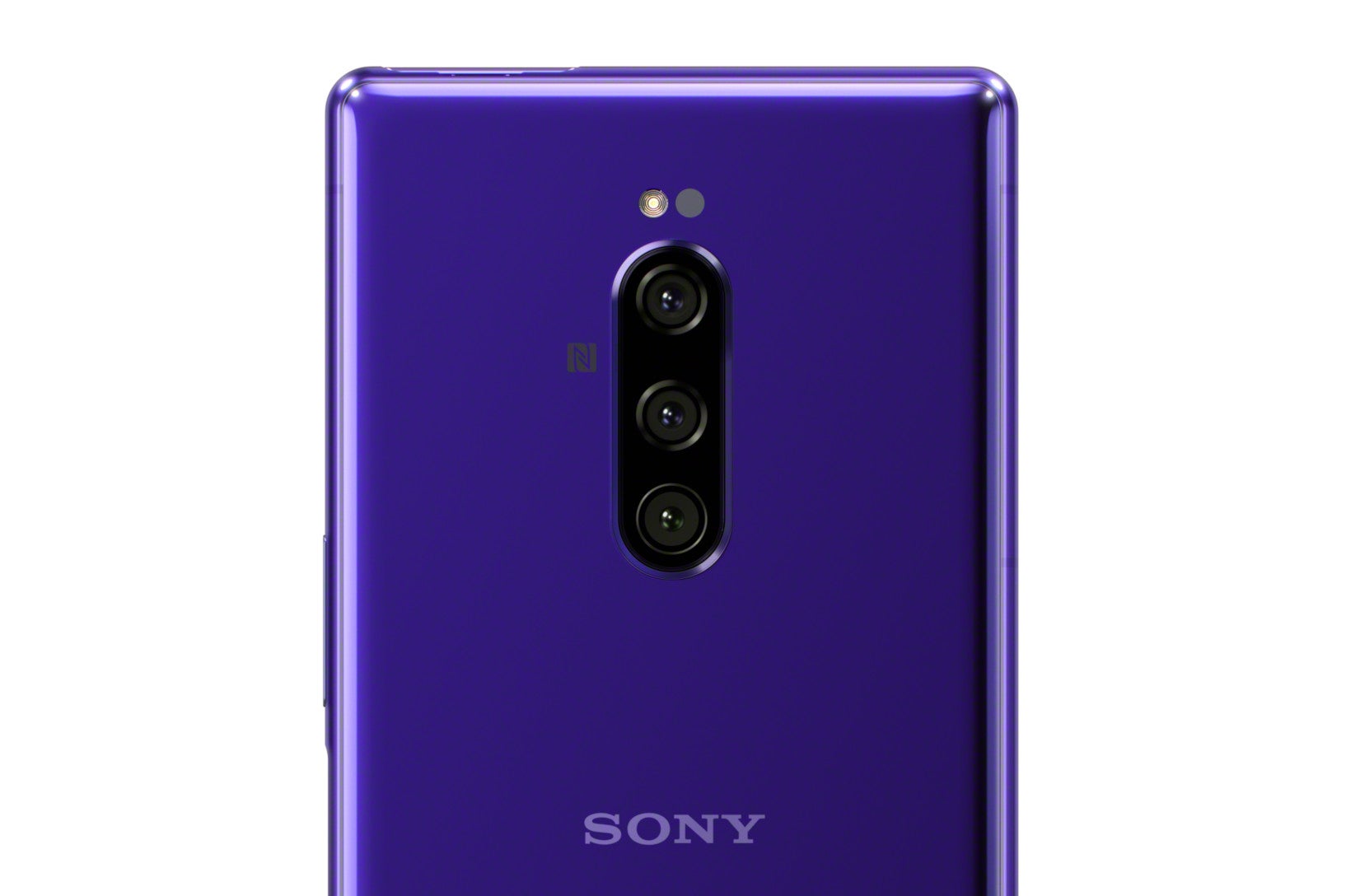 Yes, the flagship Xperia line now has a triple camera. The three options you are provided with are super-wide-angle, regular, and telephoto lens for your various shooting needs. Sony boasts about its new BIONZ X algorithm, which allows the Xperia 1's Eye camera to focus super-accurately, super-fast, and even keep said focus as you take a burst photo of 10 frames per second.
All three sensors have a 12 MP resolution, with its main camera having 1.4 μm large pixels and a lens aperture is F1.6. On paper, this all allows for more light to enter the sensor, making for better low-light photography.
Aspiring cinematographers can also have some fun with the new Cinema Pro feature, which sports color management presets and allows you to shoot in 4K HDR at FPS in the wide 21:9 format. The shot is steadied through a hybrid system of optical and digital stabilization.
Hardware and software
On the inside, the Sony Xperia 1 is on par with the other big-hitter 2019 flagships — a Qualcomm Snapdragon 855 hums inside, offering the fastest processor currently available for Android handsets, paired with 6 GB of RAM for multitasking overhead.
It sports a 3,330 mAh battery, which might have sounded like something big a year or two ago, but now seems to be on the tiny side. Especially since Samsung and LG seem to have made 3,500 mAh the norm. Still, we'll see how it fares in a battery life test further down the road.
Of course, the Xperia 1 comes with Android 9 Pie on board and a light Sony-made reskin on top with some extra features sprinkled over. Side sense comes back — a small "drawer" sits nestled at the edge of your screen and you can pull it up at any time. This can house favorite apps or toggles as you please. It will also have a shortcut for the split screen feature — something that'll work well on the super-tall 21:9 screen, allowing for each app to have more room.
Price and release

The Sony Xperia 1 will be released in the late Spring of 2019 and will be available in two colors — Purple and Black. Unfortunately, Sony did not reveal any pricing details as of right now.




If the previous flagship is anything to go by, then we are looking at a pretty hefty price. The Xperia XZ3 launched with a $899 price-tag. Looking at the amount of technology Sony crammed into the new Xperia 1, it seems like the company won't be willing to back down from that price easily.



Sony Xperia 1 vs Galaxy S10+, LG V50 hardware comparison
Sony's latest-and-greatest packs a punch — its hardware specs are on par with other popular flagships that were also announced at this year's MWC. To give us an idea how it fares against the competition, here's a quick specs comparison:
HDR support, Scratch-resistant glass, Ambient light sensor, Proximity sensor
HDR support, Scratch-resistant glass, Ambient light sensor, Proximity sensor
HDR support, Scratch-resistant glass, Ambient light sensor, Proximity sensor
Qualcomm Snapdragon 855 (7 nm)
Qualcomm Snapdragon 855 SM8150 (7 nm)
Qualcomm Snapdragon 855 (7 nm)
Octa-core, 2800 MHz, Kryo 485, 64-bit
Octa-core, 2840 MHz, Kryo 485, 64-bit
Octa-core, 2840 MHz, Kryo 485, 64-bit
Adreno 640
Adreno 640
Adreno 640
Android (11, 10, 9.0 Pie), Samsung One UI
Android (10, 9.0 Pie)
Android (10, 9.0 Pie)
Qualcomm Quick Charge 2.0, USB Power Delivery, Samsung Adaptive Fast Charging
USB Power Delivery
Qualcomm Quick Charge 3.0, USB Power Delivery
11.00 hours
the

average

is 17 h (996 min)
26.00 hours
the

average

is 17 h (996 min)
20.4 days (490 hours)
the

average

is 20 days (472 h)
24.80 hours
the

average

is 19 h (1110 min)
23.8 days (570 hours)
the

average

is 0 days (0 h)
21.2 days (510 hours)
the

average

is 0 days (0 h)
Triple camera
Triple camera
Triple camera
Aperture size: F1.5/F2.4; Focal length: 26 mm; Sensor size: 1/2.55"; Pixel size: 1.4 μm
Aperture size: F1.6; Focal length: 26 mm; Sensor size: 1/2.6"; Pixel size: 1.4 μm
Aperture size: F1.5; Focal length: 27 mm; Sensor size: 1/2.6"; Pixel size: 1.4 μm
12 MP (Telephoto, OIS, PDAF)
12 MP (Telephoto, OIS, Autofocus)
12 MP (Telephoto, OIS, PDAF)
Optical zoom: 2.0x; Aperture size: F2.4; Focal Length: 52 mm; Sensor size: 1/3.6"; Pixel size: 1 μm
Optical zoom: 2.0x; Aperture size: F2.4; Focal Length: 52 mm; Sensor size: 1/3.4"; Pixel size: 1 μm
Optical zoom: 2.0x; Aperture size: F2.4; Focal Length: 52 mm; Pixel size: 1 μm
16 MP (Ultra-wide)
12 MP (Ultra-wide)
16 MP (Ultra-wide)
Aperture size: F2.2; Focal Length: 12 mm; Sensor size: 1/3.1"; Pixel size: 1 μm
Aperture size: F2.4; Focal Length: 16 mm; Sensor size: 1/3.4"; Pixel size: 1 μm
Aperture size: F1.9; Focal Length: 16 mm; Sensor size: 1/3.1"; Pixel size: 1 μm
3840x2160 (4K UHD) (60 fps), 1920x1080 (Full HD) (240 fps), 1280x720 (HD) (960 fps)
3840x2160 (4K UHD) (24 fps), 1920x1080 (Full HD) (960 fps), 1280x720 (HD) (960 fps)
3840x2160 (4K UHD) (60 fps), 1920x1080 (Full HD) (240 fps), 1280x720 (HD)
HDR, Time-lapse video, Hyperlapse, EIS, Video calling, Video sharing
OIS, HDR, Time-lapse video, EIS
HDR, Time-lapse video, EIS, Video calling, Video sharing
10 MP
8 MP
8 MP
3840x2160 (4K UHD)
1920x1080 (Full HD)
1920x1080 (Full HD) (60 fps)
6.20 x 2.92 x 0.31 inches (157.6 x 74.1 x 7.8 mm)
6.57 x 2.83 x 0.32 inches (167 x 72 x 8.2 mm)
6.27 x 3.00 x 0.33 inches (159.2 x 76.1 x 8.3 mm)
6.17 oz (175.0 g)
the

average

is 6.5 oz (184 g)
6.28 oz (178.0 g)
the

average

is 6.5 oz (184 g)
6.46 oz (183.0 g)
the

average

is 6.5 oz (184 g)
Back: Glass (Corning Gorilla Glass 5); Frame: Aluminum
Back: Glass (Corning Gorilla Glass 6); Frame: Aluminum
Back: Glass (Corning Gorilla Glass 6); Frame: Aluminum
Water, Dust; IP68
Water, Dust; IP65/68
Water, Dust; IP68; MIL-STD-810 certified
2D Face unlock, Ultrasonic in-screen fingerprint
Fingerprint (touch)
2D Face unlock, Fingerprint (touch)