Best rugged cases to keep your Galaxy S9/S9+ safe and sound
4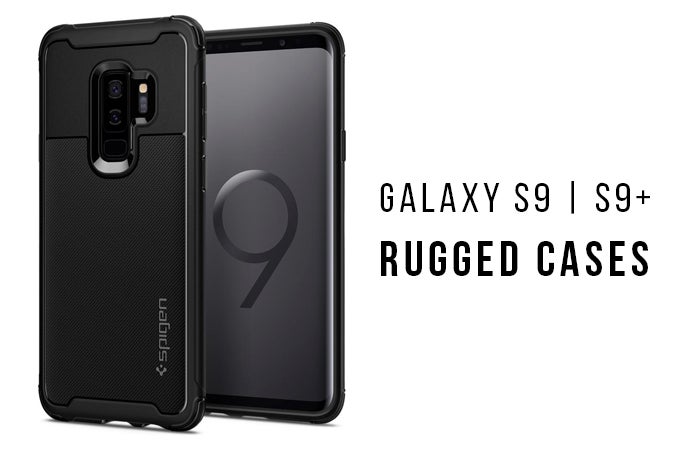 If your motto is "a working phone is better than a broken one", and you're looking to protect your investment in either the Galaxy S9 or S9+, then you're at the right place. We've decided to compile a list of the best tough Galaxy S9/S9+ cases out on the market right now, and we will be updating it regularly, as more case makers launch products for the latest crop of Galaxy phones.
It is true that overly bulky cases can ruin the looks of beautifully crafted devices, such as the new Galaxies, but then again, there's nothing worse than a bunch of scratches, or even worse — cracks — on the back of your new, $900 phone. That's why, if you want more protection, you'd better prepare for a little bit of bulk on top. Although the glass backs of the phones are somewhat resistant to scratches, a couple of months of sliding on random surfaces and jumbling around your pocket with who knows what else inside, will definitely result in unpleasant abrasions. And you don't want that, so you'd better find a suitable case!
CaseMate Tough Mag
The CaseMate Tough Mag is a two-part case that offers good all-around protection and great grip. This case consists of two parts – a knurl-textured outer shell and a soft inner cushion. The outer shell has reinforced corners to protect your phone from nasty drops of up to 10ft, while the texture on top provides for better grip on the device. The soft inner layer features a deep cut on the back for the camera(s) and fingerprint scanner, as well as a set of metallic buttons to the sides, since this case envelops the side frame of the phones completely.
Spigen Rugged Armor Urban
A case that strikes an almost perfect balance between rugged and stylish, Spigen's Rugged Armor Urban shell for the Galaxy S9 and S9+ offers single layer protection with a premium look and at an affordable price. This rigid wrapper sports a dual-tone back with a carbon-fibre-textured bottom half and a matte TPU finish around the camera and fingerprint scanner. It has raised edges around the screen, so even if you like leaving your phone face-down, it'll be protected from small debris. The Spigen Rugged Armor also offers Mill-Grade protection implementing Spigen's Air Cushion technology in all four corners for superior shock absorption.
Speck Presidio Grip
Speck's new case for the Galaxy S9 and S9+ offers good protection, without adding too much bulk to the phone. It has a pattern of grooves moulded into the rubber on its back for better grip, and a raised lip on the front. Its interior is lined with a special shock-absorbing material, which Presidio claims is capable of absorbing 52% more shock from impact than traditional rubber. The Speck Presidio Grip has been rated to offer 10ft drop protection.
UAG Monarch
Comprised of five layers of protective materials, this case from UAG's premium Monarch line provides more than ample protection for the new Galaxies. It has that unique UAG armor frame on the back, surrounded by thick rubber padding for shock absorption, partially hiding beneath a layer of top grain leather. Finally, there is a polycarbonate shear plate for protection from larger impacts. Everything is securely held together by four large, metal torx screws that also look pretty cool.
Spigen Thin Fit 360
Being perhaps the most lightweight case on this list, the Spigen Thin Fit 360 still provides good all-around protection. This case consists of a handful of parts and envelops the S9s completely – front, back, sides, top, and bottom. The back plate is made out of a tough PC material with metallic buttons built-in that provide nice feedback when pressed. The front portion is curved, tempered glass screen protector that is optional, but why not get the full 360 protection when you can? The best thing about the Thin Fit 360 is just how sleek it looks, all the while providing full-coverage protection for your S9 or S9+.