Check out the clearest and most detailed Samsung Galaxy S23 Ultra images yet
13
We may earn a commission if you make a purchase from the links on this page.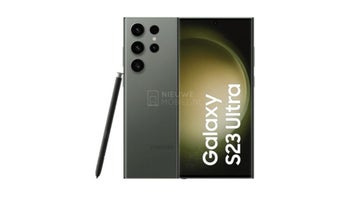 Not impressed by the refined design of the "regular-sized"
Galaxy S23
shown off in full in a fresh set of
leaked "official marketing pics" yesterday
? How about the instantly recognizable looks of Samsung's most advanced upcoming handset?
Four cameras, four colors, one name
No, the S23 Ultra is not radically different from its predecessor either. Not at a first glance, at least, or at a second, or at a third one. The curves are (even) less drastic than what last year's
S22 Ultra
has going for it, but the new screen does not appear to be completely flat, as
some tipsters had previously predicted
.
The front-facing camera is (thankfully) also very much
not
embedded into the likely unchanged 6.8-inch display, and the rear-facing shooters look... extremely familiar, at least in placement.
But the size of three of those four imaging sensors on the back of the
Galaxy S23 Ultra
may well have been increased substantially, and of course, the biggest upgrade is unlikely to be noticeable with the naked eye.
We're talking about the
200MP primary camera
we've been hearing so much about for so long, which
Samsung
itself seems to be hyping up now in its first official
Unpacked teaser videos
. Its undoubtedly super-advanced features and capabilities are obviously not out of the bag yet, but nighttime photography and astrophotography should be among the phone's key improvement focus areas.
Compared to its smaller brothers, the S23 Ultra is unsurprisingly boxier and equipped with a built-in S Pen borrowed from the defunct Galaxy Note family. The main
Galaxy S23 colors
are expected to be identical across the lineup, and the above renders very nicely showcase the Phantom Black, Cotton Flower, Botanic Green, and Misty Lilac flavors of this state-of-the-art Ultra model.
Depending on where you live and how long you're willing to wait,
rumor has it
you'll be able to get the Galaxy S23 Ultra in a few additional hues as well including red, light blue, light green, and gray.
What else should you know about the Galaxy S23 Ultra?
There's a chance all
Galaxy S23
series
prices will be increased
compared to the Galaxy S22 family, although that sounds like a very ill-advised possible move on Samsung's part on multiple levels. The S22, S22+, and S22 Ultra
never sold that well
and the mobile industry as a whole is not exactly in a great position, so any price hike (no matter how small) could massively impact the mainstream appeal of these upcoming Android powerhouses.
Speaking of power, you probably already know that the S23 Ultra will pack an
overclocked Snapdragon 8 Gen 2 processor
, as well as up to 12 gigs of RAM paired with as much as 1TB internal storage space. Curiously enough, the single front-facing camera
could be downgraded
from a 40 megapixel count on the S22 Ultra to just 12MP while gaining a bunch of cool new features and reportedly taking a big leap forward in overall "quality."
The second, third, and fourth rear-facing shooters, meanwhile, should retain the resolution of their S22 Ultra forerunners and look to improve their real-world zooming and ultra-wide-angle photography skills mostly through software optimizations and other subtle enhancements.