Samsung's vanilla Galaxy S23 leaks out in 'official marketing pics'
12
We may earn a commission if you make a purchase from the links on this page.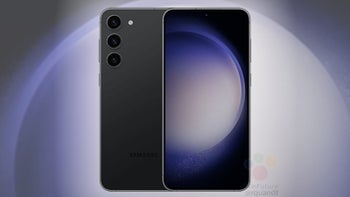 Even though the Galaxy S23, S23 Plus, and S23 Ultra can hardly be described as the tech world's best-kept secrets after multiple recent credible reports revealing many key features and capabilities, Samsung appears to have done a slightly better overall job of keeping its "next big things" under wraps compared to the last few years.
The base S23 model, for instance, hasn't had its detailed specs and dimensions (convincingly) leaked yet, and until today, the only images claiming to showcase this bad boy's design were
either demonstrably fake
or
created on a computer
(not that there's anything wrong with that).
This is the real deal!
As
usual
so many times before,
WinFuture
's
Roland Quandt
aims to fix that with an exclusive new set of reasonably high-quality images described as "official marketing pics" obtained directly "from Samsung."
There's absolutely no doubt in our mind these are totally, completely, 100 percent legit considering Quandt's background and track record, not to mention the fact that the pictures look... exactly as expected. Like it or not, hardcore
Samsung
fans are looking at another design refinement rather than a radical overhaul, which is wholly unsurprising to hear (and see) in today's mobile industry.
Of course, the non-Plus and non-Ultra
Galaxy S23
is not a carbon copy of last year's "regular-sized"
Galaxy S22
, and at least some of the subtle but easily noticeable revisions are likely to make a crucial difference for folks already looking to switch their existing phone for a new one.
First and foremost, the camera setup. Yes, this still includes three equally sized sensors arranged vertically in the top left corner of the handset's rear panel, and according to a couple of different rumors, the megapixel counts may also go unchanged.
But the three rear-facing shooters are no longer held together by a large chunk of metal, which should help them attract way less attention than before. Whether or not you see that as a good thing, it's hard to deny the elegance of the phone's profile with so little of the cameras protruding from the back.
The single front-facing snapper is of course once again placed in a small hole drilled through the middle of an undoubtedly super-high-quality AMOLED screen tipped to measure around 6.1 inches in diagonal.
This is apparently a "completely" flat display with razor-thin bezels all around it, although the metal frame is "slightly" curved to help with grip and maneuverability.
What else do we know about the Galaxy S23?
If we're referring strictly to the smallest and undoubtedly cheapest member of the fast-approaching
Galaxy S23
family, this compact (by 2023 standards) powerhouse is widely expected to be the only one in the lineup to
start at 128GB storage
for obvious affordability purposes.
Unfortunately, the family's full
pricing structure
is not out yet, but what does seem settled once and for all (including after today's leak) is the chromatic diversity of the S23 series. All three high-end phones are likely to go
official on February 1
in the same four principal colors: Phantom Black, Botanic Green, Misty Lilac, and Cotton Flower.
Additionally, Samsung is reportedly planning to release the S23, S23 Plus, and S23 Ultra in a few other paint jobs in limited numbers and limited markets, but the details on these are still a little blurry.