Is the Samsung Galaxy Home a bit too late to the party?
13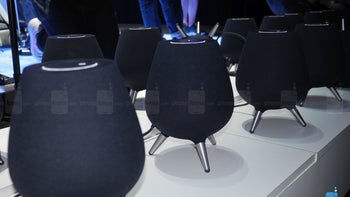 Samsung has been teasing its Galaxy Home smart speaker for a while now. It's supposed to be a Bixby-powered smart home machine with AKG-backed speakers, supposedly able to rival (or beat?) Apple's HomePod at its sound quality game. But... it sure is taking its sweet time to arrive!
The first time Samsung officially introduced the Galaxy Home was
in August of 2018
. But the company didn't spend a lot of time on it. Then, we got a longer presentation at Samsung's Developer Conference in November. Still, no release date.
We kind of expect that the Galaxy Home might finally launch together with (or close to) the Galaxy S10, at the start of March, but we can't be sure. But even if it does, is it a bit too late to the party? Amazon's Alexa-equipped Echo speakers have been dominating the market, Google has been carving its own place with its plethora of Google Home products, even Apple's HomePod is already in the hands of the Apple faithful.
Are you still holding out for the Galaxy Home or have you settled with another smart speaker and just don't care to bother?