OnePlus 11 set to launch in China on January 4th
2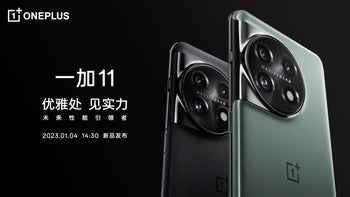 Right when we thought we were going to catch a break from all the leaks, OnePlus decided to drop a major bombshell concerning its flagship smartphone for 2023. The company announced on its
official Weibo account
that it will be holding an event dedicated to the
OnePlus 11
as soon as next week.
Earlier today, OnePlus shared a promotional video showcasing the OnePlus 11 in all its glory, before setting a date for the official launch of its upcoming handset: January 4th, 2023. This generally falls in line with what we were expecting, but it comes a bit sooner than anticipated.
It should be noted that Chinese manufacturers like OnePlus normally launch their smartphones domestically first. Only afterwards do they proceed to an international release. Typically, the gap between the two is not that big.
For reference, we were previously aware that the OnePlus 11 would launch internationally in the beginning of February -
on February 7th 2023
to be precise. The company has already scheduled an event in India, in order to mark the global debut of the OnePlus 11. It is now clear that Chinese consumers will be getting their hands on the high-end smartphone a full month before the rest of the world.
This might not seem like a big deal at first. That is, until you take into account the fact that the OnePlus 11 will be one of the first major flagships featuring the Snapdragon 8 Gen 2 processor. In this case, time is of the essence, and OnePlus could be seeking to beat
Samsung
's Galaxy S23 series to the punch.
Nevertheless, both the
Galaxy S23
and the OnePlus 11 will be hitting shelves worldwide at roughly the same times (i.e. early February). OnePlus will also be launching a pair of premium wireless earbuds, the OnePlus Buds Pro 2, alongside its new flagship.