Walmart clearance sale brings unlocked Moto G6 down to $110 after huge $150 discount
4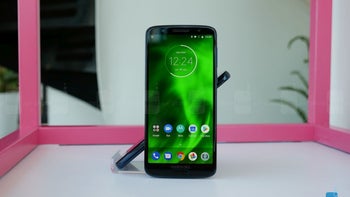 Probably the best mid-range phone released in the first half of 2018 is definitely no longer a great deal at a $250 list price. But after
the G7 family
was unveiled, the
Moto G6
received a bunch of
awesome discounts
at major retailers like
Best Buy
or
Amazon
, as well as
top-rated eBay vendors
and
Motorola's own official e-store
.
Now that the
G8 Plus
and
G8 Play
are also out (albeit not in the US), it's hardly surprising to see Walmart run a "clearance" sale in which you can get the unlocked 5.7-incher at a measly $109.99. While the handset has been available even cheaper numerous times in the recent past, still
fetching as little as 48 bucks right now
with Verizon installment plans at Best Buy, this killer new deal has absolutely no strings attached.
We're talking no monthly installments or bill credits, no obligatory activation on any specific network, and obviously, no trade-in required or anything else that could be described as a hoop you need to jump through before saving a whopping $140 compared to the aforementioned regular price of an unlocked Moto G6. In case you're wondering, you can take the phone to whatever carrier you want too, be it one that uses GSM technology (like AT&T or T-Mobile) or one relying on the CDMA standard (like Verizon and Sprint).
Powered by Android 8.0 Oreo back at launch, the G6 was naturally
updated to the Pie OS flavor
earlier this year, and given its incredible popularity, a jump to Android 10 sometime next year is not to be ruled out. Hardly a powerhouse by late 2019 standards, the arguably stylish device packs a fairly modest Snapdragon 450 processor alongside a decent 3 gigs of memory and 32 gigs of internal storage space.
Made from a premium combination of glass and aluminum materials, the
Moto G6
also sports a sharp IPS LCD panel with a resolution of 2160 x 1080 pixels and relatively slim bezels. Under the hood, you get a 3,000mAh battery with fast charging support as well, while a 12MP primary shooter and a 5MP depth sensor reside on the back of the popular mid-ranger. All in all, that's definitely a robust list of features for just 110 bucks, but you may have to hurry and pull the trigger as soon as possible, as well as settle for a black model since the "oyster blush" flavor is currently available at a ridiculous $270.37.