iPhone XS Max is the heaviest Apple phone ever
46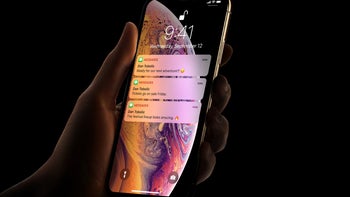 At 7.34 ounces (208 grams), the iPhone XS Max's weight certainly makes it the heaviest Apple smartphone yet, weighing 6 grams more than the second-heaviest model - the aforementioned iPhone 8 Plus (202 grams). Of course, 6 grams isn't a lot, and you may not even notice the difference when holding these two devices in your hands. Nevertheless, the heftiness of the iPhone XS Max is still something that should be considered when planning to buy the device.
In case you're wondering, the iPhone XS Max weight is also heavier than one of its main rivals - the
Galaxy Note 9
(201 grams) - despite the fact that the Samsung device is a bit taller and thicker. But, again, in real life, you might not notice the weight difference.
If you think 208 grams is too much and you simply need the best that Apple has to offer, the 5.8-inch iPhone XS is the handset to get. This weighs 177 grams and, apart from the smaller screen and slightly shorter battery life, it's identical to the iPhone XS Max, while being $100 cheaper (though this
doesn't seem to make it more popular
than its larger, more expensive brother).
iPhone XS Max weight vs rivals