iPhone Xs Max comes with the biggest display and battery ever in an iPhone
27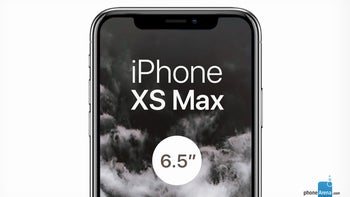 When Apple introduced the iPhone X 2017, many people were wondering why the anniversary model was available in only one size, and why it was almost the same size as a 4.7" iPhone. A "Plus" model could have been even more popular. Well, Apple is rectifying the situation in this year's lineup with the
iPhone Xs Max
– a sequel to the iPhone X that sports a massive, 6.5" display.
You read that right – the biggest display ever on an iPhone. But despite the increased screen real estate, the
iPhone Xs
Max is almost the exact same size as an
iPhone 8 Plus
or an
iPhone 7 Plus
.
Given the popularity that iPhone Plus models are enjoying, it's a smart move on Apple's part to introduce a successor to last year's iPhone X with a bigger screen. For reference, the 2017 anniversary iPhone model has a 5.8" display and is just a bit bigger than previous 4.7" iPhones, while the Xs Max has a 6.5" display and is pretty much the same size as a regular Plus model.
Here's everything you need to know about the iPhone Xs Max:
The biggest display and battery ever in an iPhone
The iPhone Xs Max sports a massive 6.5" OLED display (not accounting for the rounded corners) with the same, tall 19.5:9 aspect ratio as the iPhone X. Resolution has also been bumped up from 1125 x 2436 to 2688 x 1242, which amounts to about 3.3 million pixels or a density of 458 pixels per inch. Other features of the new Super Retina display that Apple takes pride in include touch input sampling at 120Hz, HDR10 support, and high color accuracy.
Here is how the iPhone Xs Max compares to the iPhone 8 Plus in terms of dimensions and screen size:
As for the battery, Apple has never been too keen on sharing the nitty-gritty details, but Tim Cook went on record to say that the iPhone Xs Max will have the biggest ever battery in an Apple phone, and that it will deliver a battery life that's
"an hour and a half longer than that of the iPhone X."
A12 Bionic – "the most powerful chip on the market"
The iPhone Xs Max will be powered by the new Apple A12 Bionic chipset – one of the first 7-nanometer chips on the market and
"the smartest and most powerful chip ever in a smartphone,"
as Apple put it in its announcement. It has a staggering 6.9 billion transistors on it.
The A12 Bionic is comprised of a six-core Apple Fusion CPU, a quad-core GPU that promises to be up to 50 percent faster than the previous model, and runs an updated version of Apple's Neural Engine, which is designed to handle AI tasks. The A12 Neural Engine has an 8-core design and can handle up to 5 trillion operations per second. For reference, the A11 Neural engine had two cores and do about 600 billion operations per second.
A new and improved camera experience
The iPhone Xs Max features a dual 12MP camera setup with dual OIS. As was with the iPhone X, the camera setup combines a telephoto lens with a wide-angle shooter. The wide-angle lens has an f/1.8 aperture, while the telephoto has an f/2.4 aperture.
Despite the similarities, Apple has introduced a handful of software enhancements to the new camera. Smart HDR is one of them. It is a task that is offloaded to the Neural Engine in the A12 and works similar to Google's HDR+ technique that has wooed us with amazing results on Pixel phones. What it does is, it takes numerous photos at different exposure values and then stacks them together to create an image with a much greater dynamic range than a smartphone camera sensor would otherwise be capable of outputting. Of course, the process is instant and takes a single tap of the shutter button.
Further than that, Apple also showcased the new Portrait Mode coming to the iPhone Xs Max. Using the dual cameras, the phone is capable of measuring depth and simulating a shallow depth of field when shooting portraits. The accuracy of the system seems to have improved quite a bit since last year and there's also a setting that lets you dial in the exact amount of depth of field that you want
after
you've taken a picture.
Price and release date
The iPhone Xs Max will be available in 64GB, 256GB, and 512GB versions and will start at $1099. Pre-orders are going up this Friday, September 14, while the phone is going on store shelves a week later, on September 21.
The iPhone Xs Max will initially be available in 30 markets, including the US, Canada, the UK, China, Japan, and Australia.