Vibrant colors might be exclusive to the cheapest iPhone 9 variant. What do you think about that?
20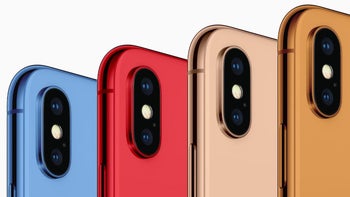 Rumor has it that we will see three new iPhones introduced in September this year. All of them will have the new, nearly bezel-less design that debuted with the iPhone X, says the rumor mill. They will be placed in three different price tiers, with the cheapest one having an LCD display and a single camera, the middle one having a dual camera on the back and an OLED screen, and the most expensive one — allegedly called iPhone 9 Plus — would have a triple camera module and a huge 6.5-inch OLED display.
The vibrant colors might be exclusive to the cheapest iPhone model
We've also been hearing that we will be seeing some
vibrant new colors
on the new iPhones. The downer? Leaksters say that only the "cheapest" iPhone will be getting such colors as grey, white, blue, red, and orange. The two fancier models will only come in the classic black, white, and gold options.
This reminds us of the
iPhone 5c
— when it launched as a "cheap" iPhone variant, it rocked 5 different, playful colors, while the
iPhone 5s
that came along with it only had the black, silver, and gold options.
And that's a bit of a downer — premium phone owners also want some vibrant colors in their lives. Why should the choice be between "bottom tier, but colorful" and "top tier, but mundane"?
So, we wonder — assuming the rumors are correct — do you wish the top-tier 2018 iPhone also comes in bright, wacky colors? Nothing screams "$999 well spent!" like an orange iPhone!