iPhone 7 and 7 Plus reportedly emit loud 'hissing' noises under load
89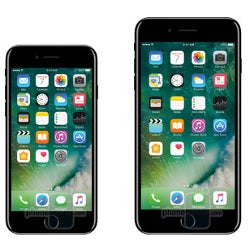 While many keen early adopters will have attempted to grab the just-launched
iPhone 7
and
iPhone 7 Plus
already, other prospective buyers will be waiting for the proverbial dust to settle. After all, those niggling teething issues with new hardware can often prove disruptive, and you've
only to look at Samsung
's catastrophic
Galaxy Note 7
launch for a case in point. While the
iPhone 7
duo don't appear to have been affected by exploding batteries, some owners of Apple's new flagships have found they can get rather noisy under heavy load.
The sound, described by some as a hiss or screech, has drawn comparisons to how a computer's CPU / fan can begin to whirr when pushed to the
edge
. It's as yet undetermined whether this is an outright defect with some models, or simply a drawback of Apple's new A10 Fusion silicon. Perhaps, although seemingly unlikely,
Intel's LTE modem chips
could have something to do with the mysterious noise.
Blogger and
iPhone 7 Plus
owner Stephen Hackett is one of a number of early adopters to have sounded off about the issue via Twitter. Having contacted AppleCare, he's been informed that the device can be swapped in-store, even though a lack of inventory makes this impossible for now. He also shared a snippet of the sounds emitted from his new phablet:
My iPhone 7 Plus makes terrible noises when under load. https://t.co/wFM2gImpOb

— Stephen Hackett (@ismh) September 17, 2016


That, as you'll probably agree, is quite a loud noise. Though we're accustomed to hearing such sounds from notebooks and traditional PCs, mobile devices tend to go about their business a little more quietly. As aforementioned, it's not yet known if this is a fault, or whether the iPhone 7 / 7 Plus will simply make noises when the processor is pushed hard.
iPhone 7 / 7 Plus owners — has your device been a smidgen noisier than you expected? Let us know in the comments.