iPhone 3G S is fingerprint resistant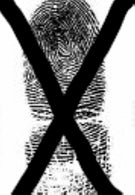 Sure, the new iPhone 3G S is faster than the current model. Yes, it can be bought with as much as 32GB of storage and RAM is doubled to 256MB. And the camera on the new model is upgraded to a 3MP version. But perhaps the most important new feature on the new iPhone is one that has not been promoted at all. The casing on the iPhone 3G S has an oleophobic coating which is supposed to make the handset resistant to fingerprints. Not only is the special coating listed on the web page covering technical specifications, directions on how to clean the iPhone 3G S mentions the special feature. The site says "If your iPhone has an oleophobic coating on the screen (iPhone 3G Sonly), simply wipe your iPhone's screen with a soft, lint-free cloth toremove oil left by your hands and face".
Fingerprints and smudges are annoying marks that tend to really irritate many cellphone users (check out how many video reviews of a handset call the reviewed device a "fingerprint magnet"); so once again, leave it to the guys at Cupertino to be the first to come up with a solution that helps reduce a common problem found on most cellphones.
Apple iPhone 3G S Specifications
source:
Apple
via
Apple Thoughts