iPad mini: essential apps
10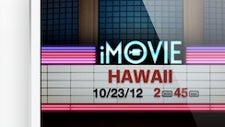 The 7.9-inch
Apple iPad mini
is here. And it's great - it's more compact, lighter, more portable. At $329 for the basic model it is not too expensive. But what apps does it run and which are the ones you should not miss when you first hit the App Store?
Basically, the iPad mini runs the same apps that the more traditional 9.7-inch iPad runs and they look the same, only a bit smaller.
We have picked what we find essential apps, showing off all the possibilities of Apple's new tablet. But we have skipped through some that we find evident.
Apple has itself released some of the best apps for iPad and they work perfectly well on the mini. That is why you should definitely check out the
iLife
suite of applications including iMovie, iPhoto and GarageBand. And if you want to use the 7.9 incher for productivity, the
iWork
suite with Keynote, Pages and Numbers should be your thing. For all the rest, check out the list below.