Galaxy S9 and S9+ in Burgundy Red appear in real life photos. Looking hot!
13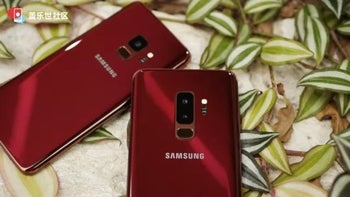 It has become sort of a semi-tradition for smartphone manufacturers to introduce a new color for their flagship smartphone some months after the initial release. The fresh look breathes new life in the phone and, we assume, boosts customer interest after the initial hype and sales have peaked.
Red seems to be the color of choice recently — last year, Apple released
its first Product Red phones
, updating the
iPhone 7
and
iPhone 7
Plus 6 months after their release and did so again with the
red-hot
iPhone 8
and
iPhone 8 Plus
. Samsung launched
Burgundy Red Galaxy 8 and S8+
midway through their lifecycle as well, and even a small manufacturer like OnePlus hopped on and launched
a limited edition Lava Red OnePlus 5T
.
This year, Samsung is jumping the gun it seems. Instead of launching Burgundy Red half a year after the initial Galaxy S9 unveiling, it's prepping up to sell the Burgundy Red Galaxy S9 and Galaxy S9+ any moment now. Well, in China at least.
Thus far, we've only seen product renders
from the official Samsung China web page
— nothing too exciting. But, today, Twitter leakster Ice universe has dropped 4 real life photos of the new color. And while they may be a bit low-res, they certainly show how hot the Galaxy S9 and Galaxy S9+ look in their new dress!
However, we might not get to see this new color ourselves. Last year's Galaxy S8 and S8+ Burgundy Red editions were only available in select markets across Asia. We hope that Samsung would feel a bit more graceful this year around and launch it in Western markets as well, but there's no official word on that yet.