eBay now supports Touch ID and new One Time Password to make logins easier
1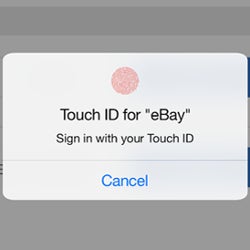 eBay, one of the Internet's favorite e-commerce services, has recently updated its mobile apps to make logins much easier. There are two new features — One Time Password for both Android and iOS, and Touch ID login, which is iOS exclusive.
One Time Password will offer the user to authenticate their device via a text message. If one agrees to the prompt, a code will be sent to their smartphone. Punching the code at login will give your device a "trusted" status, which means that you will no longer need to enter a password when using the service through it. This feature will work on mobile and desktop.
The Touch ID login makes use of the API, which Apple made available for app developers
back with iOS 8
. It simply means that instead of entering a password, a user can now authenticate their login via fingerprint, making purchases much faster.
Android users also get support for Android Wear, so they can get notifications and perform quick actions straight from their smartwatch – a feature that has been available for the Apple Watch for a while now. Whether eBay will add fingerprint authentication for Android devices in the near future, we don't know yet, but it does seem logical, considering the fact that Google has added native
fingerprint scanner support and 3rd party API
with last year's major OS update – Android 6 Marshmallow.
Recommended Stories