Spotify Lite launched in 36 markets across the world
3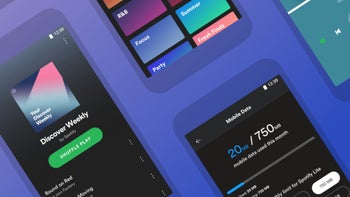 Just like many other companies that provide certain services that are accessible via phones and tablets, Spotify launched a "light" version of its mobile app. Simply called Spotify Lite, the app is meant to enable users to enjoy the company's music streaming service regardless of their network connectivity, data plan, and quality of their phones.
Spotify Lite is a smaller and simplified version of the full-fledged Spotify app, which lets you use the same features while requiring fewer resources, be it hardware or software. According to
Spotify
, the Lite app can be downloaded separately, both for Free and Spotify Premium users.
More importantly, it can be used independently from the main Spotify app on all Android phones powered by Android 4.3 or higher. And, as we mentioned earlier, Spotify Lite is just 10MB, so you'll be able to download it faster and you won't need too much free storage on your phone.
Since its purpose is to eat up less data, Spotify Lite comes with a special option that will allow you to set a data limit and get a notification when you reach it. At launch, Spotify Lite will be available in 36 markets across Asia, Latin America, Middle East and Africa on
Google Play Store
, but more markets will be added in the future.
Here is the full list of countries where you'll be able to download Spotify Lite starting today: Brazil, Canada, Mexico, Argentina, Peru, Chile, Colombia, Bolivia, Costa Rica, Dominican Republic, Ecuador, El Salvador, Guatemala, Honduras, Nicaragua, Panama, Paraguay, Uruguay, Saudi Arabia, Egypt, Algeria, Lebanon, Morocco, Tunisia, Oman, Jordan, Bahrain, United Arab Emirates, Kuwait, Qatar, South Africa, Indonesia, Philippines, Vietnam, Malaysia, and India.