Save $350 on the high-end DJI Phantom 4 Advanced+ drone, deal ends today!
2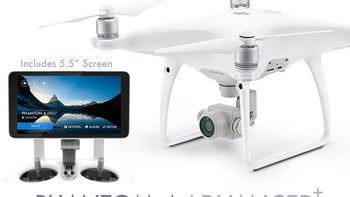 | Product | Location | Item Condition | Price | Deal ends in |
| --- | --- | --- | --- | --- |
| DJI Phantom 4 Advanced+ drone, remote control w/ 5.5" 1080p screen | B&H Photo Video | New | $1,399 -> $1,049 | |
If you're looking to buy a solid new drone, B&H has a super deal for you. The retailer is offering the DJI Phantom 4 Advanced+ quadcopter drone at $1,049, a discount of 25% or around $350 when compared to the cheapest listing on Amazon. However, you have to hurry if you're interested, as at the time of writing, the deal has only
19 hours
before it expires.
The Phantom 4 Advanced+ features a rotating 20MP camera with an aperture size of f/2.8-f11 that is gimbal-stabilized. Aside from taking 20MP shots, you can also record 4K videos at 60 frames per second and stream directly to YouTube, Facebook, and other platforms. Another notable feature of the drone is the ability to visually track moving subjects.
The drone itself can fly for up to 30 minutes at speeds of up to 45mph. Maximum control range in the USA is 4.3 miles. It comes with a remote controller that features a 5.5-inch FHD display.
The gadget also has an obstacle avoidance camera and a vision positioning system that allows it to hover and stay in place even without a satellite connection. While we're still on the satellite topic, it's worth mentioning that the device uses both GPS and the Russian Glonass navigation systems. This is further complemented by a dual compass, dual barometer, and a dual inertial measurement component.
If this deal interests you, feel free to follow the above link to B&H. As mentioned earlier, the deal expires today, so you might want to act sooner than later.