Boost Mobile picks up the surprisingly premium Coolpad Legacy at a shockingly low price
3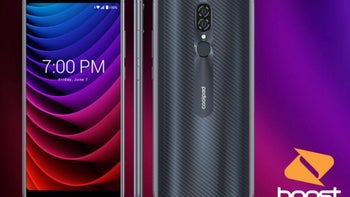 Coolpad is a far lesser-known Chinese smartphone manufacturer than the likes of Huawei, Xiaomi, or ZTE, but somehow, the company has both been able to sell its ultra-affordable handsets on a number of US carriers for several years now
and
keep a low enough profile doing that so as not to end up on the local government's radar for any potentially funny business.
After making its debut on
Metro by T-Mobile last month
at an incredibly reasonable price of $130, the surprisingly premium Coolpad Legacy is today officially expanding to the Sprint-operated Boost Mobile MVNO. Believe it or not, Boost customers can get this large phone with an extra-large battery in tow even cheaper, needing to pay just $99.99 to own it outright with absolutely no strings attached or as little as $49.99 when switching their networks.
The 50 percent discount is valid starting today and until July 8 for new subscribers looking to port in their number from a non-Sprint-related carrier. To qualify for the introductory deal, you'll also have to activate the Legacy on an eligible plan fetching at least a $50 monthly fee.
Of course, even at $99.99, this thing shines in terms of the apparent quality/price ratio, running Android 9.0 Pie on the software side of things, packing a gargantuan 3,980mAh battery, and sporting a big 6.36-inch screen with a nice 2160 x 1080 pixel count (aka FHD+ resolution). The Coolpad Legacy looks pretty sweet on the outside by budget-friendly standards as well, while also featuring dual 16 + 5MP rear-facing cameras, a single 13MP selfie shooter, 3GB RAM, 32GB internal storage space, and a Snapdragon 450 processor.
As Metro by T-Mobile advertises this bad boy, you get "all the bells and whistles" of a high-end or at least an upper mid-range phone at a truly unbeatable, irresistible, unbelievable price point.