The best phones under $400 in 2023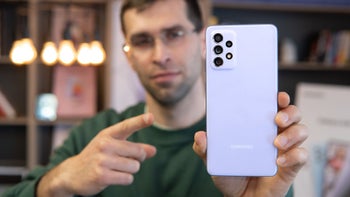 What are the
best phones
under $400? With so many phones on the market, and with the gap between mid-range and high-end narrowing each year, finding the right phone for you is not an easy task. Sure, if you've got $1000 ready to go, getting the best of the best is not a difficult task; you can narrow your choice down to a handful of phones.
However, when you're on a bit of a budget but are not aiming extremely low, the sprawling mid-range segment has so much to offer, that it can get confusing quickly. There's no need to get a flagship, you can get one of the
best phones
under $400 instead.
What do you value the most in a phone? Long-lasting battery life? A great camera? Smooth performance? Perhaps a combination of the three? Whatever it is, you're sure to find an affordable phone that checks most (if not all) of your boxes. To help you in this endeavor, we've compiled a list of the
best phones
under $400 that you can get right now!
Best phones under $400, a summarized list:
Best phones under $400, a detailed list:
Google Pixel 6a
With the Pixel 6a, Google has delivered another superb
mid-range phones
! Compared to its predecessor, Google has improved the performance, and the design still looks decent in 2023. It also has a much better battery life, thanks to its bigger pack.
Other than that, we don't think the plastic designs are bad; the phones may not feature wireless charging, but in terms of look and feel, there doesn't seem to be that much of a difference compared to the Pixel 5. Best of all, this year the phone is even cheaper, making it an amazing value if you're a fan of Team Pixel.
Samsung Galaxy A72
The Samsung Galaxy A71
was the king of mid-range smartphones, and for a good reason. That's why the task before its successor, the Galaxy A72, was a tough one. Samsung managed to pull this one off, though. The Galaxy A72 takes everything good about its predecessor and makes it better.
The phone features the same 6.7-inch AMOLED display we're familiar with from the Galaxy A71 but upgrades the refresh rate to 90Hz. Samsung has tweaked the brightness and the panel is 15% brighter than the display of the A71.
The chipset is also slightly better, and the huge 5,000mAh battery makes this phone an endurance champion. It's price is a little bit over our $400 budget but with proper deals and discounts, and with time, it will fall into this price bracket easily.
Motorola One 5G Ace
Motorola
's affordable One 5G Ace phone is a great choice. This device has a nice 6.7-inch screen with FHD+ resolution and a big 5000mAh battery. As its name suggests, it indeed has 5G connectivity. It is powered by a Snapdragon 750G processor, which is coupled with 6GB of RAM and 128GB of storage.
The Motorola One 5G Ace has some good features from the past, like a 3.5mm headphone jack and a MicroSD card slot. Camera-wise the phone has a triple-camera system, which is able to produce some pretty nice pictures.
A downside to this smartphone is its weight and thickness, which are on the big side. The phone weighs 212g and has a thickness of 9.9mm. The One 5G Ace also has a plastic back, which won't be to everyone's taste, but hey, it still packs great specs for under $400.
We can't talk about sub-$400 phones without mentioning the
OnePlus Nord N20
. With the Nord
OnePlus
goes back to its roots of delivering great bang for your buck. An AMOLED display, 5G-capable chip, fast charging and a decent camera system, what more can you want? It also comes with a decent, fast charging battery and a stylish design. The Nord N20 also features a headphone jack and a MicroSD card slot, which is pretty cool.
Motorola G Stylus 5G
Motorola carved sort of a niche with its G Stylus line of phones. If you suffer from low-battery anxiety (totally a real thing), this is the phone for you. With its 5,000mAh battery and energy efficient chipset, this phone can easily last more than a day. Its display is also very good.
The Moto G Stylus 5G sports a pretty solid for the category octa-core Snapdragon 480 processor paired with 4 or 6GB RAM count and 128 or 256GB of internal storage space. In the camera department the phone also does well, with a 48MP main camera and the addition of 8MP ultrawide, as well as 5MP macro and 2MP depth sensors. Last but not least, let's not forget this phone comes with a stylus, which might be useful to people that love taking notes.
Samsung Galaxy A54
This
budget phone
offers excellent value-for-money with its solid specs for just over $399, but the
Galaxy A54 deals of Samsung
bring it under that threshold. It is powered by a fast Snapdragon processor, coupled with 6 or 8GB of RAM and 128GB of storage. This is one of the
Galaxy phone
s to have a microSD card slot for memory expansion. It also has a nice camera setup and can shoot 4K video which is great considering this phone's price point.
Another great point is its display that now come with 120Hz refresh rate and 1080p resolution. This phone has one of the longest lasting batteries thanks to its 5,000mAh battery, very power-efficient processor, and lower resolution display. If you're all about having the best battery life, this phone is definitely one you should consider.
Sony Xperia 10 III
Sony
has a great history of making compact phones - the company actually introduced the term with the Xperia Z1 Compact back in 2014. The new affordable Sony Xperia 10 III is a great mid-ranger that offers a 6-inch OLED display, water and dust resistance, a fingerprint scanner, and a triple camera system on the back.
You won't find a flagship chipset inside, it's powered by a Snapdragon 690 chipset, coupled with 6GB RAM, and 128GB of onboard storage, but it's sufficient, especially at this price point. This phone also comes with a MicroSD card slot and a headphone jack. Its a perfect buy if you don't want a big phone and have a more active lifestyle.
Can $400 buy you a good smartphone?

As it turns out, $400 is plenty to get a decent phone in your pocket. The devices on this list make compromises in every area compared to ones that are twice their price, but these compromises are nowhere near as big as they used to be a couple of years ago. These phones should easily last you two years, and even if they become sluggish and very outdated after that, you know you didn't spend that much money to begin with.

Still, if you want a phone that is pretty good in a particular area, you should look at more expensive options. But if you're looking for a second phone or a device for a senior citizen, these will do just fine.



Recommended Stories