Best phones under $400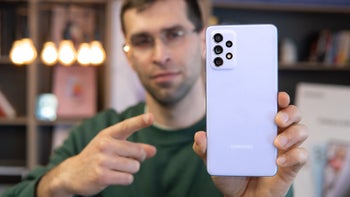 What are the best phones under $400? With so many phones on the market, and with the gap between mid-range and high-end narrowing each year, finding the right phone for you is not an easy task. Sure, if you've got $1000 ready to go, getting the best of the best is not a difficult task; you can narrow your choice down to a handful of phones. However, when you're on a bit of a budget, but are not aiming extremely low, the sprawling mid-range segment has so much to offer, that it can get confusing quickly. There's no need to get a flagship, you can get one of the best phones under $400 instead.
What do you value the most in a phone? Long-lasting battery life? A great camera? Smooth performance? Perhaps a combination of the three? Whatever it is, you're sure to find an affordable phone that checks most (if not all) of your boxes. To help you in this endeavor, we've compiled a list of the best phones under $400 that you can get right now!
Best phones under $400, a summarized list:
Best phones under $400, a detailed list:
Google Pixel 4a
With the
Pixel 4a
,
Google
has delivered another superb mid-range phones! Compared to last year, Google has improved the performance by choosing a 700-series chip, and the design is also more modern, fitting perfectly the 2020 trends. Other than that, we don't think the plastic designs are bad; the phones may not feature
wireless charging
, but in terms of look and feel, there doesn't seem to be that much of a difference compared to the
Pixel 4
and 4 XL. The only obvious difference is the lack of multiple camera sensors, but the
Pixel 4a
more than makes up for that with the quality of the pictures it takes. Best of all, this year the phone is even cheaper, making it an amazing value if you're a fan of Team
Pixel
.
Apple iPhone SE (2020)
The long-awaited update of the
iPhone SE
is finally here and it's making waves in the budget segment. Within the body of the
iPhone 8
is tucked
Apple
's A13 Bionic chip, making this one of the best-performing phones in
any
class. This phone will be able to handle any app you throw at it for years to come. Wireless charging is another feature you won't see on many other phones in that price segment. Yes, the display is small and the bezels are like no other on this list, but that's what you get with the classic iPhone design.
If you want to add a kid or a parent to the Apple ecosystem and team Blue Text Bubble, without spending much, the new
iPhone SE
is the phone for you!
Samsung Galaxy A51
The new Galaxy A51
is a big step up from the
A50
. The phone is redesigned and now has
Samsung
's Infinite-O display that was generally reserved for more premium devices. Another extra it gets from more expensive phones is the in-display fingerprint sensor, which in this phone is the optical one rather than the ultrasonic one that's on the S20 series.
Performance-wise, this phone isn't the fastest around but at that price-point we can't expect much. It does, however, have a nice set of cameras for a phone below $400. You get a 48MP main camera paired with an ultra-wide lens and a macro lens. But the surprises don't end with the rear cameras, at the front there is a 32MP selfie shooter. Now that's something you don't see every day. The
Galaxy A51
packs a lot for its price and makes for a great choice in that segment.
Motorola One Action
Motorola
has a wide range of phones under $400, so it's no surprise that two of them made it on our list. Unlike the
Moto G8
Plus, the
One Action
comes with a hole-punch display, which feels more 2020 than the notch, and a slightly faster system chip. As the phone's name suggests, its focus is on action and more specifically, recording videos in a dynamic environment.
The
Motorola One
Action uses its ultra-wide camera to shoot super-stable videos in landscape mode even when you're holding the phone vertically. That makes it much easier to record videos while riding your skateboard or playing with your kids. A unique feature that would matter little to some but can be a game changer for others.
OnePlus Nord
We can't talk about sub-$400 phones without mentioning the
OnePlus Nord
, even if it's not really under $400 since it's not sold in the US. If it was, however, it would definitely fit into that category and that's why it's here. With the
Nord
OnePlus
goes back to its roots of delivering great bang for your buck. A 90Hz AMOLED display, 5G-capable chip, super fast charging and a decent camera system, what more can you want?