Best budget 5G phones in 2021
We may earn a commission if you make a purchase from the links on this page.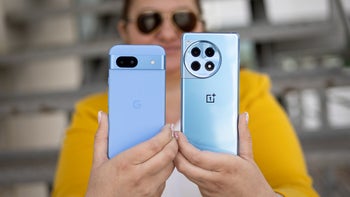 2020 was the year of 5G, and 2021 will be even more so. Mobile carriers around the world are expanding their 5G networks at a rapid pace and 5G devices are now far from the niche products they were just a short time ago, even going down market as low as the
Galaxy A32 5G
.
That's largely thanks to Qualcomm's efforts to pair its 5G modem with some mid-tier system chips, giving manufacturers more flexibility in terms of pricing, starting 5G phones from as low as the sub-$300 point. The prices of budget phones can even go lower than this when the
best Prime Day deals
come around in the summer.
Best cheap 5G phones list:

Samsung Galaxy A32 5G
This would very well be the 5G technology's weapon of mass proliferation, as it launched at just $282 over at Samsung, the cheapest 5G phone from the most recognizable Android phone brand. While not as well-appointed as the
A52
5G midranger, our
A32 review
found it to sport amazing battery life with surprisingly decent camera performance, making it a steal at the price.
Until an
A72 5G
lands on US shores, the
Galaxy A71 5G
is the best of the budget Samsung 5G phones, and it even has a Verizon UW version. Nominally $600, but found at way less, it's still $400 below the official retail price of the
Galaxy S21+
. The difference becomes even larger if you are able to get in on a promo, for a phone with Snapdragon 765G chip, great battery life, and a quad-camera array.
Samsung Galaxy A52 5G
This year, the Galaxy A52 5G will get knocked down from its perch as the entry level Samsung phone in the US that comes with 5G capabilities by the A32 5G, but even then the A52 is a pretty good deal at around $400. For one, the phone doesn't look cheap at all. In fact, this year Samsung made its A-series phones even more similar to its flagships with added cameras and high refresh rate displays.
OnePlus 8 5G
What's an $800 phone doing here, you ask? Well, after the
9-series
landed, OnePlus slashed the 8 to $500. Great display with high refresh, excellent battery life. and decent camera round up this great 5G offing. If you want a version that will work on Verizon, you'd have to shell out a bit more for the exclusive mmWave model, though.
Google Pixel 4a 5G
Google entered the budget 5G phone scene not long ago, and the cheaper Pixel 4a 5G is an awesome value proposition. It comes with the Snapdragon 765G SoC paired with 6GB of RAM and 128GB of storage. But you're not buying a Pixel phone for the specs sheet. You're getting it for the software features and the camera. While the camera hardware might be inferior to that of the Galaxy A71, for instance, it more makes up with the software and is one the best camera phones on this list.
Motorola also has a $399 entry in the budget 5G segment. Not that surprising, considering Motorola has been making some of the best budget phones for the last few years, and our
review of the Motorola One Ace 5G
found out it's no exception.
LG Velvet 5G
LG also has a contender in the budget 5G phones fight with, surprise, the LG Velvet. Great design and very good camera meet 5G connectivity courtesy of the frugal Snapdragon 765G that is easy on the battery. It can now be found for $400-$500 in its non-Verizon version, and checks all marks for an affordable daily 5G driver.
TCL 10 5G UW/T-Mobile REVVL 5G
The TCL 10 is another sub-$400 5G phone, this time to fulfil the affordable 5G needs of Verizon or T-Mobile's customers, and is packing pretty decent specs for the price. The Snapdragon 765G is back, paired with 6/128 RAM/Storage combo and 4,500mAh battery. The display is a 6.5-inch IPS LCD with a hole-punch for the selfie camera, just as you'd expect from a phone in 2020. A feature that not many budget phones have but this one does is face unlock. Of course, there's also a fingerprint reader if you want that extra security.


OnePlus Nord N10 5G
OnePlus has been expanding its presence in the States and one of its latest additions is the budget Nord N10. The N10 sells for just $299 in the US and comes with features that are usually reserved for much more expensive phones. We're talking about the 90Hz refresh rate of the display and the 30W Warp Charging. The 6/128GB RAM/Storage combo is also pretty good at that price point and the battery life of the phone is amazing, as we found out during our
OnePlus Nord N10 review
.
center
a building dedicated to a particular activity
More (Definitions, Synonyms, Translation)
Google
search the internet (for information) using the Google search engine
More (Definitions, Synonyms, Translation)