Android might not remain free because of new EU ruling
43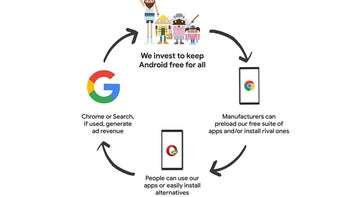 Following the EU's decision to slam Google with an exorbitant fine for anti-competitive behavior — an unprecedented $5 billion — CEO
Sundar Pichai published a memo
where he outlines why Google requires smartphone makers to set Chrome and Search as default services if they want access to the Google Play Store.
"If phone makers and mobile network operators couldn't include our apps on their wide range of devices, it would upset the balance of the Android ecosystem,"
explains Pichai, hinting at the fact that the free business model that Android has maintained throughout the years depends on these service bundling practices.
"But we are concerned that today's decision will upset the careful balance that we have struck with Android, and that it sends a troubling signal in favor of proprietary systems over open platforms,"
Pichai concludes.
What the memo hints at, basically, is that Google might have to start charging companies for Android licences, should the European Commision's (EC) demands are granted. As part of the European ruling, Google must stop forcing its web browser and search service on manufacturers, and stop any efforts to block forked versions of Android. It's still early to tell how the Internet search giant will respond to the ruling, but many observers have been quick to point out that Sundar Pichai's memo contains what could be constituted as "warning shots" regarding the openness of Android.
Some phone makers, such as Samsung, have developed their own web browsers, but are still forced to bundle Google Chrome on their products. If the EU ruling comes into force, these companies would be able to free to push their own browsers as the default option and also change the default search engine. This could have great implications for Google's mobile ad revenue, which constitutes more than 50 percent of the company's net digital ad revenue, according to
The Verge
.
On the other hand, Chrome and Google search are already so popular and widely-used, that even if such a ruling comes into force, the vast majority of the billions of people who are using them on a daily basis will continue to do so in the future.