ZTE's AD3700 global modem now available for Verizon Wireless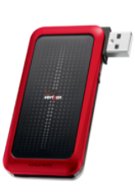 Verizon Wireless customers requiring high speed wireless access when traveling internationally will soon have ZTE's AD3700 global modem available for purchase. It'll provide EV-DO Rev. A access when you're here domestically with lightning fast connection speeds. When taking it abroad, it'll have access to EV-DO, GSM, GPRS,
EDGE
, HSPA, and UMTS network connections for your wireless needs. For right now, it's only compatible with Windows computers which connects through the swivel out USB 2.0 connector. If you're a constant international traveler excited about this, expect it to arrive in stores August 14 at a cost of $79.99 after a $50 mail-in-rebate with a two year agreement. With connectivity in over 175 countries, we're sure that this will please anyone looking for a true world-wide wireless broadband connection.
via
BGR