You'll be smiling to greet each day with the Rise and Shine alarm clock app for the iPhone
10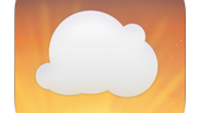 No one wants to be jarred awake by the sound of their alarm clock. That is the recipe for getting your day off to a horrific start. But Rise and Shine is an alarm clock app for the Apple iPhone that is bound to get your day off to a good start. The app does this because it refuses to turn off until it sees you smile. And how bad can a day go when you start it off with a grin?
Because the app uses the front-facing shooter on your iPhone to check for your smile, it also will take a picture of that moment when you, ahem, Rise and Shine each morning. And you can send those pictures to your friends and family using email or social media. And there is a full photo editor for these "bedhead" photos.
Rise and Shine will also wake you to a library of tunes that come with the app, or you can use your own iTunes library. And if you need more of a push to get up, the alarm clock will try to wake you by vibrating or by flashing a strobe light. If you need to get up wih a smile on your face, this is the alarm clock that can do it.
Rise and Shine is a free app from the App Store, so why not give it a shot!
source: RiseandShine (
iOS
) via
BGR