YouTube Capture now supports the Apple iPad and Apple iPad mini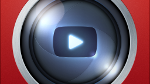 You might remember a handy little app called
YouTube Capture that launched for the Apple iPhone only in December
. The app allows a user to film a video, edit it for color stabilization, add background music, and then upload it to YouTube, Google+, Twitter and Facebook at the touch of an online button. You can upload to as many as all four or to as few as one While an update recently
allowed the app to support 1080p video recording
, another update sent out on Thursday allows
YouTube Capture
to work on the Apple iPad and Apple iPad mini.
Now that YouTube Capture works for the Apple iPhone, Apple iPad and Apple iPad mini, Android owners would like a crack at YouTube Capture as well. Ironically, Google developed the app, but it is iOS users that have the exclusivity on it for now. When YouTube Capture was originally introduced, Google did say that it was
working on a version for Android
users that would be released in the future.
We bet that there are a large number of Android users who just can't wait for this app to launch in the Google Play Store.
source:
YouTubeCapture
via
Pocketlink