Yahoo! launches its Answers application for WebKit browsers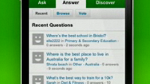 As many web surfers know, the best way to settle a bet, answer a homework question or double check what some big mouth is telling you, is to use Yahoo! Answers. And now, all of these answers are coming to mobile phones with an optimized version of the application ready for WebKit powered browsers like mobile Safari, the Android and webOS browsers and the browser on the BlackBerry Torch 9800.
So the next time you need to know the location of the Beatles last concert (San Francisco), the name of Disney's largest stockholder (Steve Jobs) or the answer to any other obscure question and you are on the go, using the mobile version of Yahoo! Answers app is the easiest way to prove that you are right. Be careful though, because there are many unofficial "Answers" apps in the Android Market alone.
For a detailed look at the app, check out the video below which was made by the Yahoo! UK and Ireland Answers team.
source:
Phonescoop