Xiaomi unveils Redmi Note 5 Pro, marking a global debut for Snapdragon 636
21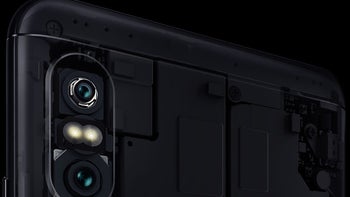 Just as rumored, Xiaomi took the stage today to announce one new and one rebranded phone in its storied Redmi Note line, meaning that today's day of love and chocolate is the birth of the long-awaited Note 5 Pro that is supposed to usher Xiaomi in the era of... tall displays paired with vertical dual cameras on the back. The 5 Pro is made out of metal, as virtually all of Xiaomi's low- and mid-range phones are, which is refreshing for those who don't baby their smartphones, and in a sea of all-glass handsets. If that isn't the best of all worlds.
Xiaomi equipped the 5 Pro with the same 5.99" 1080x2160 display that the already announced
Redmi 5 Plus
has, and, in fact, the second phone it announced today, the Note 5, seems to be an Indian rebrand of that same 5 Plus, so we'll focus on the 5 Pro here, as the similarities end with the display.
The new Redmi 5 Pro offers Qualcomm's freshest octa-core Snaprdragon 636 processor with Kryo 260 CPU cores clocked at 1.8GHz, and Adreno 509 graphics. That's both a powerful and a power-sipping chipset, so expect some wonders when it comes to battery life out of the generous 4000 mAh pack inside the 5 Pro. The phone will come in two memory configurations, with 4/6GB RAM, and both will sport 64GB storage.
There is a brand new set of cameras on the back, arranged in a vertical format like you know who. The usual 12MP f/2.2 primary camera that Xiaomi uses lately, is paired with a 5MP f/2.0 depth sensor, while the front-facing camera offers the whopping 20MP resolution, and is aided by a flash. For the first time Xiaomi is also introducing the obligatory Face Unlock feature, marking the 5 Pro as a full-circle wannabe.
The phone will come in Black, Gold, Rose Gold, and Blue, and sports the latest MIUI 9 on top of Android 7.1 Nougat. How much for this dual-cam midranger with fast and frugal processor, large tall display, and a big battery pack? Well, in a true Xiaomi tradition, it costs $220 for the basic model, and $265 for the one with 6GB RAM, but be prepared to add at least 30% to that tally when importing, or if the phones launch in markets further west after their official February 22 release date.