Would you import the 6 GB RAM Note 7 if it launches as China-exclusive?
72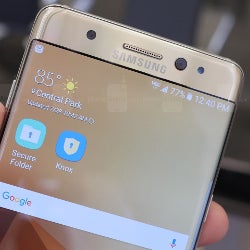 Samsung just went out and all but confirmed the existence of a
Note 7 with bumped up RAM and storage
... for China only. The reason cited was that local brands are "
aggressively doing marketing with high-capacity memory
" - OnePlus and Vivo come to mind - and Samsung wants to defend its market share against the locals.
Makes sense, but what about those of us that have been primed to wait for a Note 7 with 6 GB RAM globally? That is why we wanted to ask you today whether you would import one if Samsung releases it as China-exclusive.
We've been hearing about that elusive Note 7 model with 6 GB RAM and 128 GB of internal storage for a while, both from benchmarks, and when it
made a stop
over at the Chinese equivalent of the FCC, of all places. The version was listed as a dual SIM Note 7, hence the doubling of flash memory compared to the global Note 7 units - after all, if you use the hybrid slot tray to put two SIM at once, you will be deprived of the ability to expand the internal storage with a microSD memory card.
Then, from the underbelly of the Chinese blogosphere, came another confirmation that such a beast may indeed exist, complete with pricing. According to carrier promotional staff there, the 6GB RAM/128 GB Galaxy Note 7 will cost 6088 yuan in China, while the base 4 GB/64 GB model will run for 5688 yuan, though it doesn't become clear if that one will be dual SIM. That's $912 and $853, respectively, and such a small difference smells pretty fishy to us, given the bump in memory you get, so take the price tag with a grain of pink himalayan. The source then tipped an August 26 preorder start, and September 2 release date, but we'll see if that pans out.