World's largest carrier China Mobile starts selling Apple's iPhone today, but subsidies are not very high
30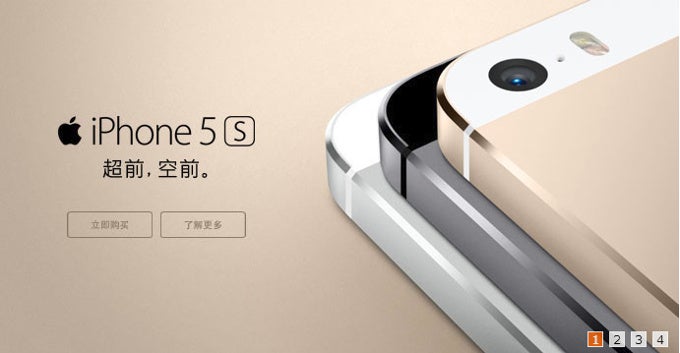 China Mobile, the world's largest carrier with a subscriber base of over 760 million, has officially started selling the iPhone today, but the subsidies are not as high as you might have thought. China Mobile and Apple have gone through hard and long negotiations to arrive at the deal, and the carrier admits that its pricing is not as low as on other Chinese operators, but is nonetheless justified because of China Mobile's growing 4G TD/LTE network.
China Mobile is the first carrier to start offering the new high-speed LTE service in the world's most populous country. Coverage is limited to just a few big metros at the moment - Beijing, Shanghai, Guangzhou and Shenzhen, but is expected to grow to some 340 cities by the end of this year. The iPhone 5s, of course, supports the carrier's 4G frequencies.
China Mobile is selling the 16GB iPhone 5s for free only with a two-year plan with a hefty ¥588 ($97) monthly fee. A more reasonable ¥188 ($31) monthly two-year plan would require customers to pay ¥3,788 ($625) for the latest iPhone, and without a contract the iPhone 5s goes for ¥5,288 ($873).
In comparison, the iPhone 5s is free with a cheaper ¥386 per month ($63) contract on China Unicom, but the agreement is for a longer, 30-month period of time.
The high price is not stopping early adopters, and estimates are that more than 1.2 million people showed interest by placing a reservation for the iPhone 5s on China Mobile. Some 42 million of the 760 million total carrier subscribers are said to already be using the iPhone even despite the fact that it's never been officially offered before on China Mobile.
Apple's chief executive, Tim Cook, has flown to China himself for the launch and even signed 10 iPhones for customers. China Mobile's chairman, Xi Guohua, also shared his excitement for the launch, saying the partnership with Apple is broader than just the iPhone.
Having fun in Beijing at the iPhone launch with China Mobile! pic.twitter.com/AqoqLbbeO7

— Tim Cook (@tim_cook) January 17, 2014


Ten customers get signed #iPhones from both @tim_cook and #China Mobile's Xi. First one up: pic.twitter.com/aCGqmMaCpq

— Eunice Yoon CNBC (@eyoonCNBC) January 17, 2014
source:
The Next Web
,
CNBC