Wireless charging system for Apple iPhone 5s and Apple iPhone 5 announced by WiTricity
10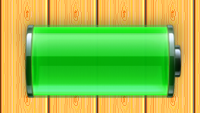 How would you like to charge your Apple iPhone without wires? A company called WiTricity has announced a wireless charger for both the
Apple iPhone 5s
and
Apple iPhone 5
. The system uses magnetic resonance which means that the charging can be done at a distance. You won't have to line up the iPhone on a wireless pad. And if you include a wireless power repeater, you can put the latter in your top drawer under your nightstand, and any device placed on that nightstand will recharge.
At CES, WiTricity announced a wireless pad and a case for the Apple iPhone 5s and the Apple iPhone 5. The company says it is basically a reference design, but it does plan on selling the pad in coming months for $99 and the case for $49. Intel is an investor in the company and was involved in a $25 million funding round back in October. At CES, the silicon slinger is using WiTricity's technology to display a recharging bowl for wearables. Drop your wearables in the bowl, like a smartwatch, and it starts recharging.
To see how the technology works, and how the repeater can extend the range of the pad, click on the video below.
source:
GigaOM